Art Libraries Society of North America: Richard Diebenkorn, The Catalogue Raisonné
February 1, 2017
By Stephen J. Bury, Andrew W. Mellon Chief Librarian, Frick Art Reference Library, bury@frick.org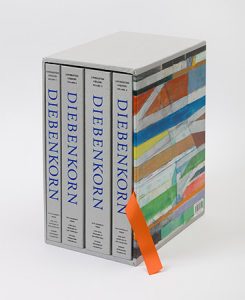 The catalogue raisonné is in crisis: litigation has led many artists' foundations to avoid authentication altogether, and there has been a trend to move the catalogue raisonné from print to online. This remarkable Richard Diebenkorn (1922-1993) catalogue raisonné reverses this trajectory: it started because unauthenticated Ocean Park drawings began to surface from 1994; and is hybrid, in print but with an online component providing a mechanism for addenda and revisions.
The hefty – over thirty pounds – four-volume publication documents Diebenkorn's "unique works": another volume is planned to cover his etchings, drypoints, and monotypes. It is published by the Yale University Press in association with the Fine Arts Museums of San Francisco and the Richard Diebenkorn Foundation.
Volume One provides an overview of Diebenkorn's work, documenting the movement from abstraction to figuration, and then back to abstraction. John Elderfield provides a revealing essay on the impact of Henri Matisse on the Ocean Park series, starting with Diebenkorn's visit to the 1952 San Francisco version of Barr's Matisse exhibition. This study was in fact enabled by the reconstruction of the series in the catalogue raisonné, as well as by the Diebenkorn Foundation's decision in 2006 to re-photograph all Diebenkorn's work for consistency of color (the 'Notes on photography' describes the color correction process). This first volume also includes a usage guide, a chronology, which is illustrated and helpfully annotated, a bibliography, and a series of indices of titles, alternative titles and of owners, as well as a general index.
Volume Two catalogs Diebenkorn's juvenilia, the work in Palo Alto, Sausalito, Albuquerque, Urbana, and Berkeley. Volume Three covers the Berkeley figurative period 1955-1966. Both these volumes also catalog the undated and missing works for the respective periods. Volume Four is devoted to the Ocean Park work, the figurative period 1967-8, and the abstract period 1967-1988 (although there were many figurative drawings in this period). It also catalogs the Healdsburg period 1988-1992, Diebenkorn's sketchbooks, and the archive of drawings at the National Gallery of Art.
This is a pioneering catalogue raisonné, which is also the first opportunity to see Diebenkorn's oeuvre in a consistent manner. Every university library that has either an art history or a fine art course should acquire this work, and every museum library where there is a Diebenkorn in the collection should not be without it. Librarians, who fear that in the future there might be another print edition, can take consolation in the Diebenkorn Foundation's decision to update online.
See more from the Art Libraries Society of North America