The Artist
All paintings start out of a mood, out of a relationship with things or people, out of a complete visual impression. —Richard Diebenkorn
Richard Diebenkorn (1922–1993) produced, over a forty-five year span, a body of work whose beauty and mysteriously empathic nature has long attracted many devotees worldwide. He lived during the period of America's great surge onto the world stage of visual art, working alongside the likes of Willem de Kooning, Philip Guston, and Joan Mitchell, but forging a decisively independent style. While still in his twenties he moved briefly to New York from his native San Francisco region, realizing that its artistic climate was the most stimulating locus in the United States, but soon returned to California where, aside from two important early years in Albuquerque, New Mexico, and a year teaching in Urbana, Illinois, he remained.
From a glorious early flowering in the language of Abstract Expressionism, where he responded directly to the light and landscapes of New Mexico and the urban Midwest, Diebenkorn turned to a prolonged period of making figurative and landscape art, going very much against the grain of his generation. A leader in Bay Area figurative painting, Diebenkorn produced work that was received with enormous affection and excitement by a wide audience. Then, quite abruptly in 1966, he turned to a new form of abstraction, again decisively different from his peers. Moving from Berkeley to Los Angeles, he proceeded to make the monumental abstract works known as the "Ocean Park" series, incorporating the lessons of two of his key influences, Henri Matisse and Piet Mondrian.
—Jane Livingston
Image: Richard Diebenkorn in his Hillcrest Road studio, Berkeley, Calif., 1959, with Man and Woman Seated (1958); photographed by Fred Lyon for Horizon Magazine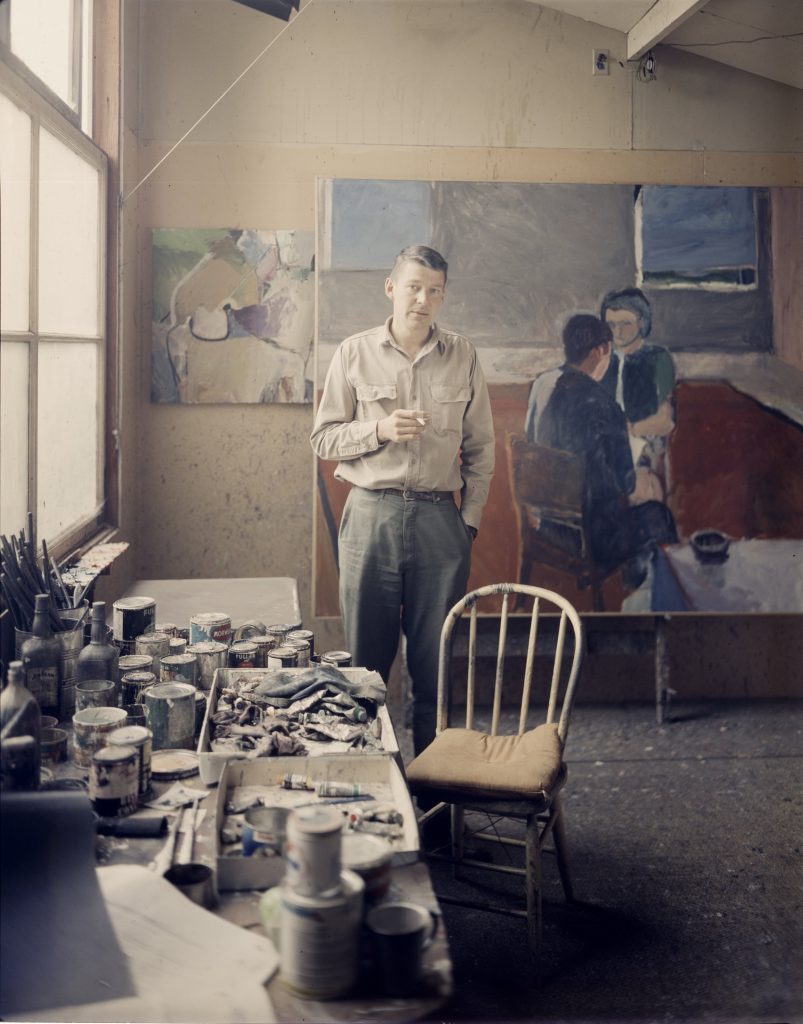 Artist Chronology
(1922–1993)
Originally published in Richard Diebenkorn: The Catalogue Raisonné
Public Collections
Explore institutions that have unique works by Richard Diebenkorn in their permanent collections
Finding Diebenkorn's Underpainting
Katherine Van Kirk experiences galleries a little differently than your typical art museum frequenter. When she takes in a piece, her eyes are drawn to that patch of acrylic thicker than the rest of the paint, that unrelated fleck of color peeking through a crack line, that odd bit of texture mismatched with the natural flow of brush strokes. These details, so often overlooked, prompt Van Kirk to wonder if the work is hiding secrets underneath its surface.
Van Kirk, an undergraduate at Stanford University, shares her experiences of finding a hidden "underpainting" beneath renowned Bay Area artist Richard Diebenkorn's work Window, part of the permanent collection of the Cantor Arts Center at Stanford University.