Paintings & Drawings
About
Richard Diebenkorn: The Catalogue Raisonné
Edited by Jane Livingston and Andrea Liguori
This four-volume catalogue raisonné is the definitive resource on Diebenkorn's unique works, including his paintings, works on paper, and three-dimensional objects. The first volume gives an overview of the artist's career, featuring essays by noted scholars John Elderfield, Ruth E. Fine, Jane Livingston, Steven Nash, and Gerald Nordland, as well as an illustrated chronology, list of exhibitions, bibliography, and selection of studio notes. The second volume spans his student and early abstract works; the third volume features his representational works during the Berkeley period; and the fourth volume covers his later periods, as well as his sketchbooks and other little-known private drawings. Many of the more than five thousand works illustrated in this catalogue are being published for the first time, and with new color photography that showcases his work like never before.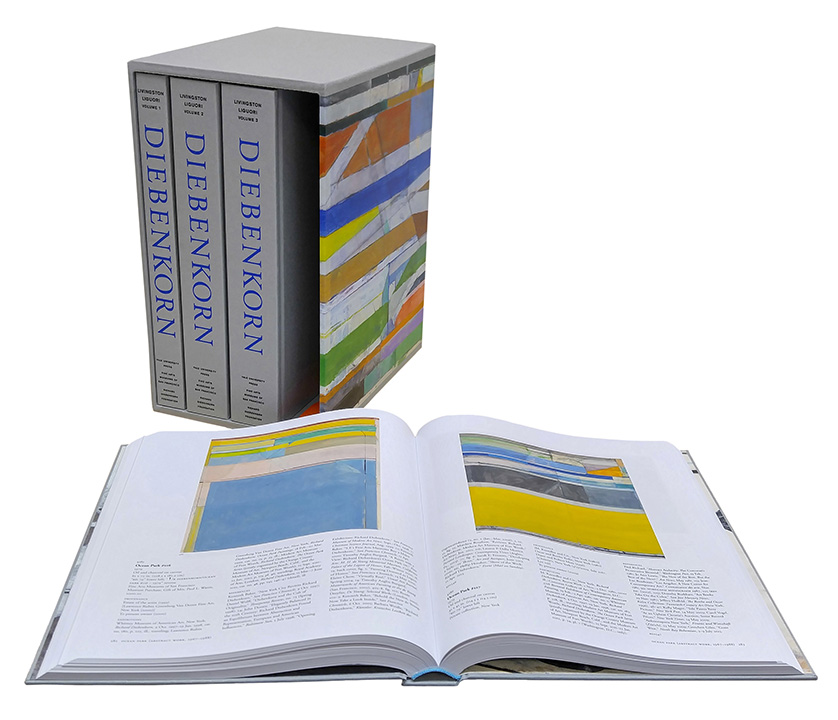 Release date: October 18, 2016
4-volume set with slipcase | 2,176 pages | 9-7/8 x 12-1/4 inches | 5,784 color illustrations | ISBN 978-0-300-18450-1
Published by Yale University Press, New Haven and London, in association with the Fine Arts Museums of San Francisco and the Richard Diebenkorn Foundation
Addenda and revisions
The Richard Diebenkorn catalogue raisonné documents all of the artist's unique works known to the editors and the Foundation at the time of publication. Works that have emerged after publication are shown here in Addenda. Information unavailable to us at the time of publication, such as an unresolved collection credit at the time of our provenance research deadlines, is shown here in Revisions. The final dates for provenance research were: volume 2 (1933–1955), December 1, 2012; volume 3 (1955–1966), June 1, 2013; and volume 4 (1967–1992), December 1, 2013.
Video
In a rare and special video featuring artworks and archival photography, Jane Livingston, co-editor of Richard Diebenkorn: The Catalogue Raisonné (Yale University Press, 2016), joined by Andrea Liguori, Managing Director of the Richard Diebenkorn Foundation, and Gretchen Diebenkorn Grant and Richard Grant, Executive Director of the foundation, together speak about the four-volume reference of more than 5,000 works illustrated in stunning new color photography and exhaustive documentation. Livingston, who organized the highly acclaimed retrospective The Art of Richard Diebenkorn (1997) at the Whitney Museum of American Art, provides an overview of the volumes, enthusing that over half of the works produced by the artist in his lifetime never left his possession, and many of these drawings and paintings on paper had never before been reproduced and are "brand new to the world." The video was produced at SFMOMA inside the museum's 2017 presentation of Matisse/Diebenkorn and in Berkeley, CA.
6:03 2017
Purchase
Richard Diebenkorn: The Catalogue Raisonné
Edited by Jane Livingston and Andrea Liguori
"Stunning . . . the definitive look at this enduring American master. . . . lavish [and] essential." —Alex Belth, Esquire
"A sumptuous, four-volume catalogue raisonné of Diebenkorn's paintings and works on paper . . . Here we have our first opportunity to see his career complete, with Diebenkorn's enormous output of works on paper gathered around his contemporaneous oil paintings. . . . His art, whether representational or abstract, is suffused with an independent, exploratory spirit." —Jed Perl, New York Review of Books
"In [this] new luxe catalogue raisonné . . . there is something for anyone who cares at all for visual art. . . . Any fan—even a casual fan—would covet this gorgeous, slipcased edition." —Malcolm Jones, Daily Beast