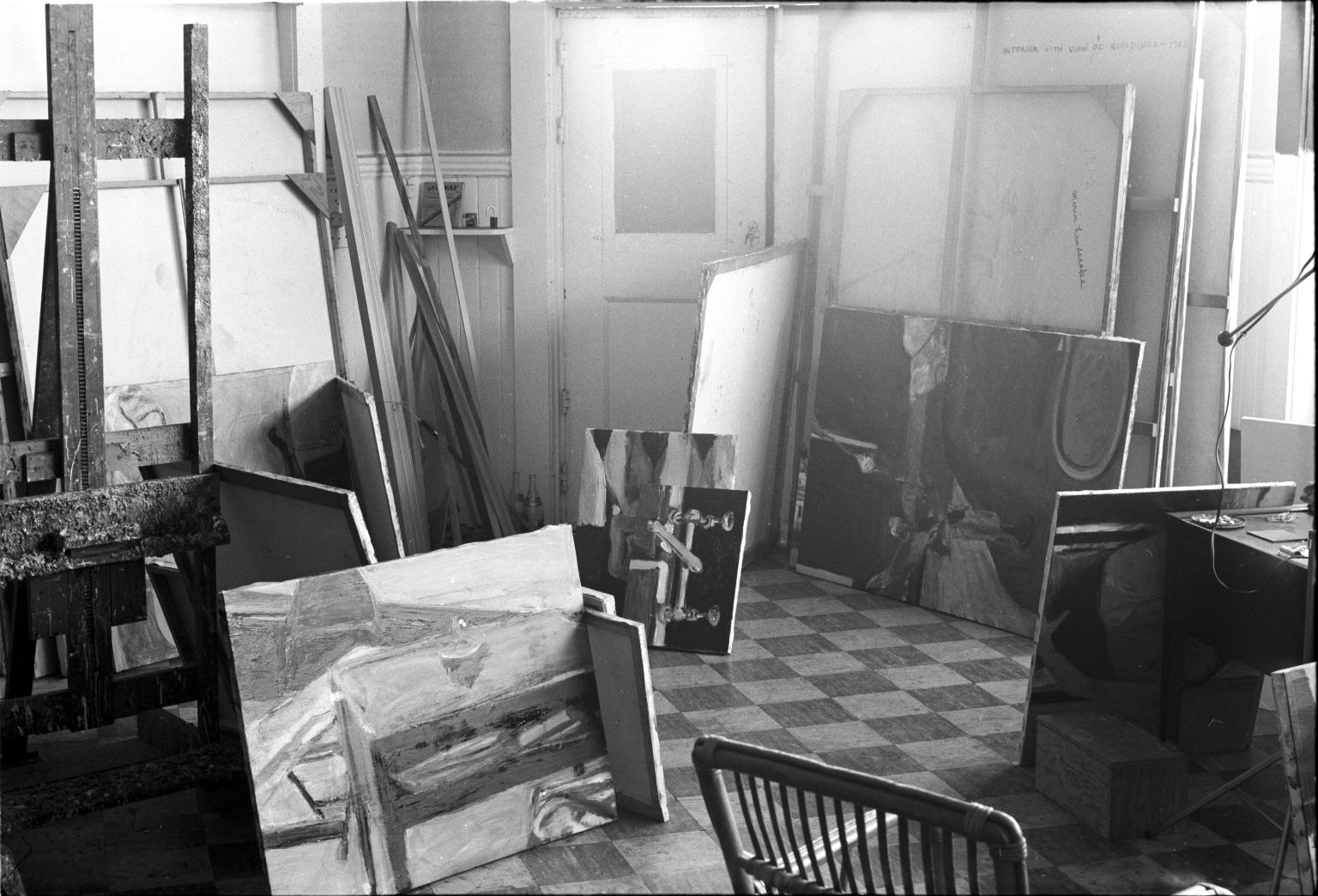 Artworks
The searchable selection of paintings, works on paper, and prints is an introduction to the full body of Richard Diebenkorn's output. With over five thousand unique works and over two hundred prints, the project is ongoing. Our aim is to build a dynamic catalogue linking artworks to their exhibitions and published references. Upon its completion the online catalogue will be a definitive resource available to all.
In 2016 the Foundation published Richard Diebenkorn: The Catalogue Raisonné in association with Yale University Press and the Fine Arts Museums of San Francisco, presenting more than five thousand unique works in new color photography. The volumes include essays by noted scholars, an illustrated chronology, a selection of studio notes, list of exhibitions and bibliography accompanied the illustrated artworks, collectively providing unprecedented access, context and understanding to date of the artist's creative life. Much of the extensive information gathered for the four-volume catalogue raisonné will be available and expanded here.
In 2018 we began building the online catalogue of paintings, works on paper, three-dimensional objects, and prints. A two-volume publication of the artist's print production will be released in 2024 by Yale University Press; therefore, the current selection of prints only samples the artist's efforts in the medium. Our primary objective is to systematically publish online the full catalogue details for all of Diebenkorn's works: title, date, medium, dimensions, signature, institutional owners when applicable, and catalogue numbers. Lists of exhibitions and references have also been added. However, additional exhibition and bibliographic research is necessary before records are exhaustive online. Complete citation data for all unique works may be viewed in the artist's published catalogue raisonné.
The forty-six prints in the online catalogue represent just ten percent of the artist's print output. Details about these objects are presented here in an abbreviated form but will be expanded after the release of the print catalogue raisonné in 2024. The published volumes will include details including proof designations and their distribution; presses, plates, inks, paper types, and inscriptions; explanatory remarks; and residency dates.
Please check back regularly for new content. For now, there may be inaccuracies or omissions, and records should be read with this understanding. Please contact us if you would like to bring a discrepancy to our attention.
Searching Artworks
Artworks can be browsed in multiple ways through the online catalogue. Explore paintings, works on paper, and prints through the Collections main landing page. A new search bar feature at the top of each page allows searching within a certain medium by selecting a specific button and then entering a query. Additionally, a selection of curated groups of works is featured in the Browse section also located on the Collections landing page.
The search magnifying glass icon in the upper right-hand corner of the menu allows searches of the collection by word, phrase, or number across all artworks and exhibitions. In 2021 we introduced searching capability for bibliographic references and new links between artworks and publications. Please note the search magnifying glass icon returns results from the entire catalogue, regardless of the artwork collection you're browsing.
Searching Tip: Using an asterisk after a word, phrase or number will return broader results.
The Advanced Search page allows more detailed queries. For example, date range, medium, owner or catalogue raisonné number may be included in a search. Advanced Search can also be accessed in the upper right-hand corner of each page.
Use Filters to refine your query or current group. They are located below the search bar on the left-hand side corner of each page. Filter options are owner, date, and period as examples.
Each group of works may be viewed in list or image form and sorted by title or date. These options may be specified through the icons in the upper left-hand corner of each page.
Notes about artworks
Two catalogue numbers are specified for unique artworks: a catalogue raisonné number (CR number) and an object or RD (Richard Diebenkorn) number. The catalogue raisonné numbers correspond to the numeric sequence of the works as published in Richard Diebenkorn: The Catalogue Raisonné  where works are ordered chronologically and grouped by medium. (Within each year, drawings generally precede paintings and three-dimensional objects.) The object or RD numbers are non-sequential identification numbers assigned by cataloguers beginning in 1996. These numbers remain in use in the foundation's digital documentation and archival collections; they also appear in sales documentation from 1996 to 2015. RD numbers are assigned to prints at this time, and print catalogue raisonne numbers will appear in our online catalogue as our publication date approaches. The search bar of each artwork page allows searches by either number.
Owner and credit line fields are specified for artworks in permanent institutional collections as well as in the Foundation's collection. Private collection credits and provenance details are excluded from the online catalogue but were included, when known before 2015, in Richard Diebenkorn: The Catalogue Raisonné.
Related exhibitions are listed under individual artworks by venue, title, and date. Entries are linked and expanded in a separate window, detailing venues, organizers, curators, and works by Diebenkorn that appeared together in the exhibition. Excerpts from exhibition catalogues and reviews, along with explanatory texts and sections from the catalogue raisonné chronology, are included when possible. The next phase of the online catalogue will include the addition of installation and catalogue images to entries when available. Exhibitions are also viewable individually under the Collections menu bar.
Related bibliography entries are also listed under individual artworks. Entries are linked with other artworks referenced in the publications, and bibliographic entries can now be viewed individually under the Collections menu bar.
Description entries are listed under individual artworks when applicable and provide additional context for the work. When one or more archival photos featuring the artwork are tied to the record, the description field also provides appropriate caption and copyright information.
A Relationships field populates below the catalogue details of each artwork, connecting the work with others that have a similar subject or image on the recto/verso.
Archives
The primary holdings of the Richard Diebenkorn Foundation Archives are the personal and professional materials Diebenkorn produced during his life and consist of photographs; correspondence; records and papers; object, museum, gallery and exhibition files; audio and video materials; transcripts; and ephemera and memorabilia. These materials were collected over the course of the artist's life and gifted to the Richard Diebenkorn Foundation by his wife, Phyllis, in 2014. Other ancillary collections include the Gerald Nordland Papers (the working files Nordland compiled during publication and exhibition projects involving Diebenkorn's artwork) and the Lincoln Yamaguchi Photograph Collection (1955 photographs of Diebenkorn's Shattuck Avenue studio, and drawing sessions from a live model). Both collections were gifted to the Richard Diebenkorn Foundation in 2014 by their producers.
The Foundation is currently undergoing the processing and digitizing of its archival holdings to increase access to the materials. In 2019 we began actively expanding the digital presence of the Archives by making more materials available here and launching an online processing initiative, From the Basement, which features selections of previously unpublished materials and highlights points of interest in Richard Diebenkorn's life and art. Read more about the initiative below.
The Archives are currently closed to the public. Please submit requests, questions, or inquiries through our Archives Request Form (located on our Contact page under the Foundation menu) and consult our access policy for more information. Qualified researchers are encouraged to contact our archivist for assistance.
More material will become available as we continue to migrate our digitized materials into our collections database. Currently, we have over 6,000 individual photographs and 2,000 pieces of correspondence available on our website. Please check back regularly for new content and updates.
Searching Archives
Archival objects can be browsed online by clicking "Explore Archives" or through individual archival classifications (i.e. correspondence, photographs, or writings) on the Collections main landing page. A new search bar feature at the top of each page allows searching within a certain classification by selecting a specific button and then entering a query. Curated groups of archival objects are also available in the quarterly feature, From the Basement, located under Collections.
Additional archival material on Richard Diebenkorn may be viewed under the Artist menu bar. Click on Chronology for photographs of the artist and his family. Choose Videos to see him at work in the studio. Click on the Catalogues Raisonnés menu bar for more information about Richard Diebenkorn: The Catalogue Raisonné, which was published in 2016 and extensively reproduces many archival materials in its four volumes.
About From the Basement
From the Basement, a quarterly feature, highlights rare findings from the Archives and makes them viewable online. It takes a closer look at moments in history that impacted Richard Diebenkorn's development as an artist. The features, located under the Collections menu bar, present correspondence and photographs alongside the art Diebenkorn was making at the time. They offer a new understanding of the breadth of material Diebenkorn and his wife Phyllis collected together. We invite and encourage you—scholars, writers, researchers, and today's art enthusiasts—to dig into the material, deepen your knowledge, and respond through your own personal lens.