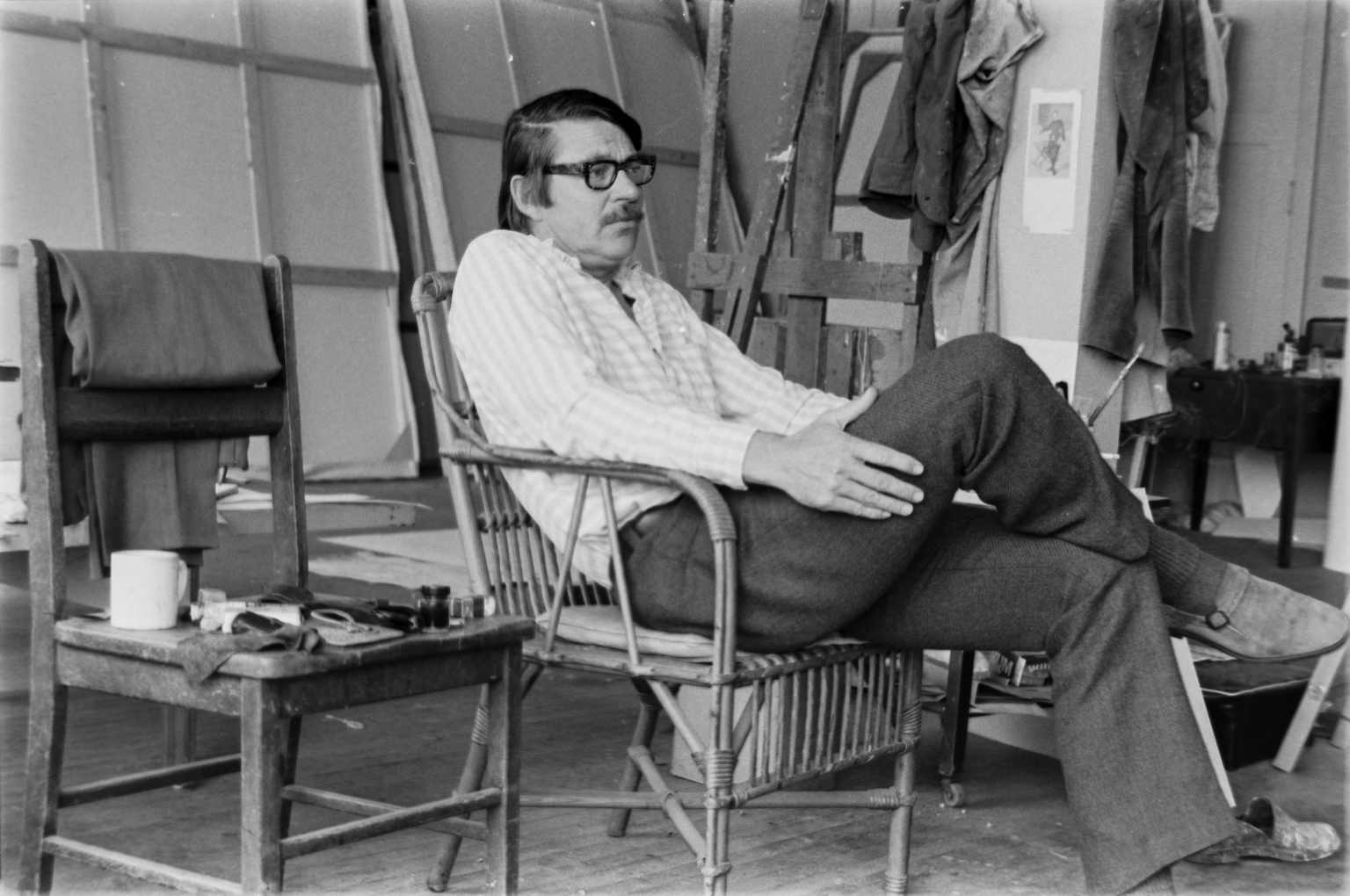 Richard Clifford Diebenkorn Jr. was born in April 1922 in Portland, Oregon. When he was two years old his father, who was a hotel supply sales executive, relocated the family to San Francisco. Diebenkorn attended Lowell High School from 1937–40, and entered Stanford University in 1940. There he concentrated in studio art and art history, studying under Victor Arnautoff and Daniel Mendelowitz. The latter encouraged his interest in such American artists as Arthur Dove, Charles Sheeler and Edward Hopper. Mendelowitz also took his promising student to visit the home of Sarah Stein, sister-in-law of Gertrude Stein, where he saw works by Paul Cézanne, Pablo Picasso and Henri Matisse; this early exposure to European modernism opened doors that continued to beckon in the future. In June 1943 Diebenkorn married fellow Stanford student Phyllis Gilman; they would have two children, Gretchen (born 1945) and Christopher (born 1947).
Diebenkorn served in the U.S. Marine Corps from 1943 until 1945. While stationed in Quantico, Virginia, he visited a number of important collections of modern art, including the Museum of Modern Art in New York, the Gallatin Collection at the Philadelphia Museum of Art, and the Phillips Collection in Washington, D.C. He internalized influences from Cézanne, Julio González, Paul Klee, Joan Miró, Mark Rothko and Kurt Schwitters; certain key paintings, such as Matisse's 1916 Studio, Quai St. Michel at the Phillips Collection were especially compelling for him. During this time he produced representational sketches that would continue when he was stationed in Southern California and in Hawaii, and that constitute his "wartime" work.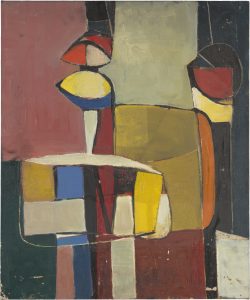 Returning from military duty to San Francisco in 1946, Diebenkorn took advantage of the G.I. bill to study at the California School of Fine Arts. There he met many serious contemporaries who would remain friends and artistic colleagues, and an older one, David Park, who would have an especially important influence on him. In 1946 he received the Albert Bender Grant-in-Aid fellowship, allowing him to spend nearly a year in Woodstock, New York, in an environment where serious abstract artists were finding their experimental ways. In New York City, he had his first contact with William Baziotes and Bradley Walker Tomlin. Diebenkorn's relatively small canvases of this period reflect these sources, many of whom were influenced by Picasso.
Diebenkorn and his wife, Phyllis, returned to San Francisco in 1947; they settled in Sausalito, and the artist became a faculty member at the California School of Fine Arts. Fellow teachers there included Elmer Bischoff, Edward Corbett, David Park, Hassel Smith, Clay Spohn and Clyfford Still. His first one-person exhibition was held at the California Palace of the Legion of Honor in 1948. In 1949, he was awarded his B.A. degree from Stanford. It was during this interval—1947 to late 1949—that the works of the "Sausalito period" took shape.
Albuquerque & Urbana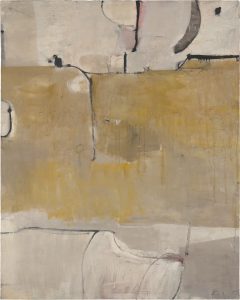 In 1950 Diebenkorn enrolled at the University of New Mexico, Albuquerque. He and his family remained in Albuquerque for two and a half years; halfway through his tenure there, he presented a cycle of paintings as his master's degree exhibition. The "Albuquerque period" represents the first mature statement of Richard Diebenkorn's distinctive, and powerful, presence on the American avant-garde art scene. During the Albuquerque years, Diebenkorn visited and was greatly impacted by a retrospective exhibition of Arshile Gorky at the San Francisco Museum of Art. This, and an epiphanic experience viewing the landscape from an aerial perspective, shaped his own work in the ensuing months. He combined landscape influence and a private, calligraphic language, into an artistic style that flowered in myriad directions, and whose ideas ramified in virtually all of his work in subsequent periods. At this time, he established his life-long pattern of working simultaneously in large-scale oil paintings works on paper.
Diebenkorn's first in-depth exposure to the work of Henri Matisse happened in the summer of 1952, when he saw the retrospective exhibition organized by Alfred Barr for the Museum of Modern Art, New York, in its venue at the Municipal Art Galleries in Los Angeles. In the fall of that year, he moved with his family to Urbana, Illinois, having accepted a teaching position at the University of Illinois. The work made at that time, known as the "Urbana period," is characterized by a continuation of his subtle abstract/calligraphic style, but with a richer, more intense palette.
Berkeley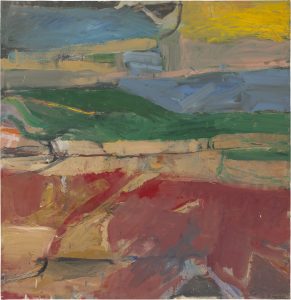 In the summer of 1953, Diebenkorn visited New York, where, among many other artists, he first met Franz Kline. In September, he returned with his family to Berkeley, settling there for a number of years. The paintings and drawings of the "Berkeley period" established the artist as an abstract painter of uncommon authority and profundity.
In late 1955, Diebenkorn launched upon a path that veered dramatically from his extended early abstract period: he began to work in a representational mode, painting and drawing landscapes, figure studies and still lifes. With fellow artists David Park, Elmer Bischoff and Frank Lobdell, he regularly worked on figure drawing from models; one of his largest bodies of work comprises exhaustively experimental figure drawings. Some of his still life drawings and paintings are among the most distinctive, and ravishing, in twentieth century art. But it was the large figurative and landscape paintings of this period (1956–67) that created an ever increasing audience for his work. In March 1956 he had the first of nine exhibitions at the Poindexter Gallery in New York; these were duly noted by the East Coast art establishment and helped further his national reputation.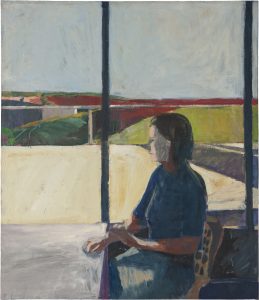 In the academic year 1963–64 the artist left his teaching activity at the San Francisco Art Institute and accepted an artist-in-residence stint at Stanford University, where he produced an especially concentrated and lyrical group of figure drawings. In 1964 he was invited to visit the Soviet Union on a Cultural Exchange Grant from the U.S. State Department. On that (somewhat harrowing) trip, he was able to see the great Matisse paintings at the Hermitage in Leningrad and the Pushkin Museum in Moscow, which had been unavailable to most of the world for decades. This experience fed his work of the ensuing years. In 1965 he began the late figurative works, characterized by relatively flat, planar areas of color, geometric compositions, and occasionally smaller areas of decorative figuration. In 1966 he saw the Matisse retrospective at the University of California, Los Angeles Art Gallery which included View of Notre Dame and Open Window, Collioure.
Ocean Park & Healdsburg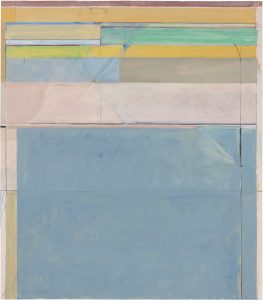 It was in 1966, too, that he and Phyllis moved from Berkeley to Santa Monica, where Diebenkorn accepted a teaching position at UCLA. Within several months of beginning work in his first Santa Monica studio, located in a neighborhood near the beach known as Ocean Park, the artist embarked on the great cycle of paintings and drawings, the "Ocean Park period." In doing so, he definitively ended his figurative approach, to invent a unique abstract language he would develop until 1988. In 1971, he had his first exhibition at the Marlborough Gallery in New York; these three shows became much-anticipated opportunities to observe the unfolding of the Ocean Park vocabulary. In 1977, he moved to New York's M. Knoedler & Co., Inc, where, over the course of the next decade he exhibited nearly annually. This would become a series of events perhaps even more appreciated than his earlier Ocean Park shows at Marlborough. With the widely noticed traveling exhibition organized by the Albright Knox Gallery in Buffalo, New York, in 1976, his national reputation as both a figurative and abstract artist, became secure.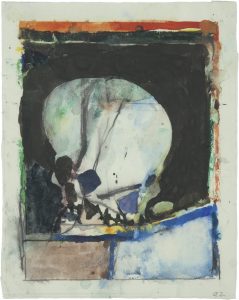 In 1980 and 1981, Diebenkorn temporarily changed direction, producing a rather eccentric group of works on paper known as the "Clubs and Spades" drawings. When these were shown at Knoedler, critics were somewhat perplexed; with time, however, these images have become some of the most highly prized of his works. They were, at least in part, inspired by the artist's lifelong interest in heraldic imagery, and their explorations of form would reappear in modified form at the very end of his life. In late 1988, and continuing as a traveling exhibition throughout 1989, Diebenkorn's works on paper were organized into a major show and book by the Museum of Modern Art's curator John Elderfield. This was a landmark event for the artist and his public, including, as it did, the entire range of his stylistic journey right through the late 1980s.
In the spring of 1988, Richard and Phyllis Diebenkorn moved from Santa Monica to Healdsburg, California, to a rural home near the Russian River, overlooking vineyards and scrub-oak hillsides. In his Healdsburg studio he worked mostly in small scale, producing some of the most gem-like, quirkily decorative, and perfectly executed, works of his life. Though he experienced serious health problems during much of his time in Healdsburg, he was able to continue his restless exploration of form and color and poetic metaphor. Though virtually all of the Healdsburg work was abstract, it often incorporated code-like references. In late 1992, the Diebenkorns were forced to take up residence at their Berkeley apartment in order to be nearer to medical treatment. They looked forward to returning to Healdsburg, but were never able to do so. Richard Diebenkorn died in Berkeley on March 30, 1993.
—Jane Livingston
© Richard Diebenkorn Foundation
Request permission to publish