Artsy Editorial: Richard Diebenkorn Brought California Light to Abstract Expressionism
June 20, 2018
By Surya Tubach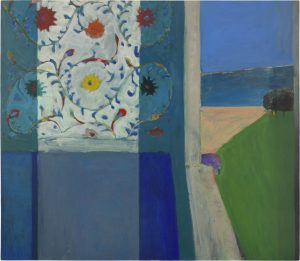 When Richard Diebenkorn got off a plane in San Francisco, California, he was not the same person who boarded in New Mexico. It was the 1950s, and the artist was then an MFA student in Albuquerque, taking his first flight in order to see an Arshile Gorky retrospective at SFMOMA. Diebenkorn peered out the window and found himself with an eye-opening vantage point so intense that later biographers would refer to the moment as an "epiphany"; the unusual aerial perspective from the low-flying plane created a flattened landscape and broad planes of color that would influence the painter's work for the rest of his life.
Diebenkorn was an Abstract Expressionist. This is not, however, another story of a New York art world superhero, an enfant terrible, or a glamorous occupant of Greenwich Village or Andy Warhol's Factory. There are no teetering skyscrapers or midnight bumps of amphetamine. Instead, there is prickly scrub brush, golden dust, and some slow-moving fog.
The artist's canvases depicting afternoon shadow and slanted light, with swathes of ocean blue and sandy yellow, are a product of the West Coast. Born in 1922 in Portland, Oregon, Diebenkorn would spend most of his life moving up and down the coast of California, living and working in the Bay Area and Los Angeles. As an undergraduate studying studio art and art history at Stanford University, he was introduced to Sarah Stein, who shared her famous sister-in-law Gertrude's love of collecting—her house boasted works by Henri Matisse, Pablo Picasso, and Paul Cézanne.