Artsy Editorial: The Secrets Hidden on the Backs of Famous Artworks
July 26, 2018
By Karen Chernick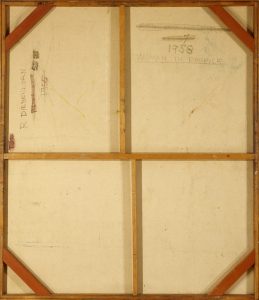 To the untrained eye, it looked like just a piece of masking tape. But to Jeannette Redensek, a scholar reviewing hundreds of works in preparation for a comprehensive catalogue of paintings by German-American modernist Josef Albers, the yellowed strip of adhesive stuck on the back of one Albers work was a revelation.
The modest sliver of tape offered the final clue to determine the painting's ownership history, and even where it had been displayed. "I knew [of another painting that] had absolutely belonged to this collector in Cleveland," Redensek told Artsy. "On the back of that painting was a piece of masking tape onto which someone had written 'living room.' And so when I saw the masking tape on the other one that said 'bedroom,' I thought, that's got to be it. It's the same hand, it's the same masking tape." And she was right: The gentleman in Cleveland had owned both.
Redensek belongs to a distinct art world subculture—comprised of curators, conservators, researchers, and other market professionals who routinely flip paintings over—that has honed a connoisseurship of the backs of artworks that rivals the attention paid to the surfaces. "The verso of a painting can hold nearly as much information as the recto," noted Katy Rogers, president of the Catalogue Raisonné Scholars Association and co-author of the catalogue raisonné of Robert Motherwell's paintings and collages. Added Andrea Liguori, managing director of the Richard Diebenkorn Foundation: "Examining the back of a painting is nearly as important to us as examining the front."
A painting's face communicates its art historical context, but its reverse often carries the history of the artwork itself. On the backs of canvases, stretcher bars (the wooden framework holding the canvas in place), and the undersides of frames, careful examiners can often find inscriptions left by artists, last-ditch attempts to advocate for works once they've left the studio. Versos are also frequently marked by dealers, collectors, and museums, with notations ranging from greased pencil notes to wax seals, exhibition labels, and inventory numbers. Taken together, these markings are akin to a painting's passport, representing its identity, travels, and even changes of address.