Boston Globe: Beautiful show celebrates impact of Matisse on Diebenkorn
November 4, 2016
By Sebastian Smee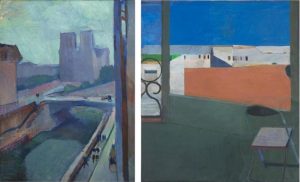 BALTIMORE — When you love an artist, you tend to love everything by that artist. It's not that you lose the ability to discriminate between failures and successes. It's that your feeling for what the artist wanted to do, and for the temperament and the thinking behind those ambitions, becomes so engaged that everything he or she attempted interests and involves you.
Richard Diebenkorn had that feeling for Henri Matisse. And "Matisse/Diebenkorn," a deeply stirring exhibition at the Baltimore Museum of Art (it was co-organized by the San Francisco Museum of Modern Art), demonstrates that Diebenkorn's intense love extended to every corner of Matisse's career.
That was news to me. Until now, anyone could see that Diebenkorn's celebrated "Ocean Park" series, with its taut, geometric divisions and blue and pastel palette, sprang out of Matisse's severe and imperious 1912-1917 period — paintings like "The Piano Lesson," "On the Terrace," and the two unusually abstract works Matisse neither signed nor exhibited: "View of Notre Dame" and "French Window at Collioure."
But this show reveals the connection went much, much deeper. Without being too literal-minded, it matches Diebenkorn paintings and drawings with relevant works from Matisse's tentatively experimental turn-of-the-century phase, his breakthrough Fauve paintings (1904-1907), the large-scale decorations and Cubist-influenced canvases from 1908-1917, and the entire Nice period. There are none of Matisse's late cut-outs, but there is one yellow paper collage by Diebenkorn to remind us that these, too, called out to him.
The result is an unusually beautiful show, in which the unique glow emitted by one painter meets the glow from another and seems almost to create new atmospheric conditions.