Esquire: A Good Reason to Visit Baltimore
October 26, 2016
By Alex Belth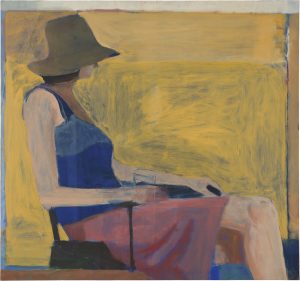 Richard Diebenkorn first saw Henri Matisse's 1916 painting Studio, Quai Saint-Michel at the Phillips Collection in Washington D.C. in 1944, while a Marine stationed in Quantico, Virginia. You were welcome to hang out all day at the Phillips Collection—which Diebenkorn often did. He would stand in front of the painting and take in its lush scale, its welcome, endlessly rewarding invitation to look and look some more.
You can see Studio, Quai Saint-Michel as often as you like in reproduction, but even though just about any painting is a Google search away, you're never prepared for how powerful it is in person. The painting greets you as you walk into the lush and exciting new Matisse/Diebenkorn exhibit of 92 works (56 by Diebenkorn, 36 by Matisse) at the Baltimore Museum of Art. It's easy to see why the painting floored Richard Diebenkorn—the flattening of space, the equal concern with interior and exterior, the warm, vibrant use of color, the strength, beneath it all, of drawing.
The young painter was already hooked on Matisse, who was then 73. "It's the restraint coupled with the sensuousness that's so utterly exceptional," he once told The New Yorker. The year before, Diebenkorn, then a student at Stanford, had the great fortune of visiting Sarah Stein's Palo Alto home (her husband was Leo and Gertrude Stein's brother). Stein owned more than a hundred works by the French master. "Right there I made contact with Matisse," he later said, "and it has just stuck with me all the way."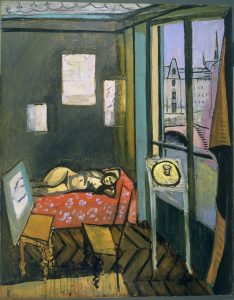 The Baltimore exhibition—co-organized by the San Francisco Museum of Modern Art—is not a teacher-and-disciple conceit exactly, but more like an example of how Matisse profoundly influenced an American painter 63 years his junior. They are a nice match, the European sensualist and the American sensualist. Diebenkorn, whose catalogue raisonne was published by Yale University Press last week, was six two and many of his canvases are big and bold. There is a lovely contrast of scale between their work in this show; with the exception of Studio, Quai Saint-Michel, most of the Matisse pictures aren't terribly large.