IFAR Journal: My Father, Richard Diebenkorn
December 4, 2017
Excerpted and edited from an IFAR Evening talk by Gretchen Diebenkorn Grant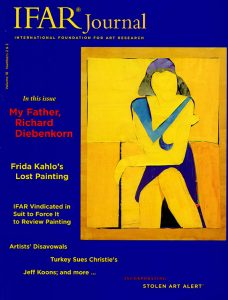 Editor's Note (excerpted): On May 24, 2017, IFAR hosted a sold-out IFAR Evening in New York entitled "Matisse/Diebenkorn—Influences and Affinities." The speakers were noted curator, art historian, and IFAR Art Council member, John Elderfield; and Gretchen Diebenkorn Grant, the daughter of famed California artist Richard Diebenkorn. Timed to coincide with a major exhibition, "Matisse/Diebenkorn," co-organized by the Baltimore Museum of Art and the San Francisco Museum of Modern Art, the program discussed the two artists from different perspectives and also highlighted the influence that the older French artist had on the younger American and their many affinities.
I am often asked what it was like to live with a creative man, in this case, Richard Diebenkorn (1922–1993), who was not only an artist, but also my great loved father. On the understanding that I am writing as an admiring daughter, and not as an art historian, I would like to share some of my thoughts about my father and his life-long admiration for Henri Matisse (1869–1954), whom he never met.
Why was Matisse such a lifelong inspiration? I can only speculate, but, intuitively, I sense that both artists looked at their surrounds in a similar way, and this includes their inner musings. The intensity of the act of looking and seeing is related in the two men. They both were committed to a life of observing so deeply that distractions and interruptions were not as important as what they were putting through the resources of the own minds. I sense that both men found their lives, and specifically their surroundings, to be a muse.
Some artists have lives in society, or use their art to express their political views. My father was conflicted at best by social events, and although he was very committed and informed about the politics of his time, and indeed created posters and sets of etchings to be sold to support these opinions, his art did not overtly reflect his politics. Matisse lived through two world wars and I do not see evidence of these extraordinary, tumultuous events in his work except in a subtle sense that the status quo was changing, thus reflecting the upheaval of his time. This is not to say that either of these men lived outside their historical contexts or were unaffected by world events. Rather, they were each in their way exploring new and adventurous ways of expressing themselves, which is another way of living in one's time.