Los Angeles Times: Richard Diebenkorn show at Pepperdine zeroes in on experimental early years
March 26, 2019
By Christopher Knight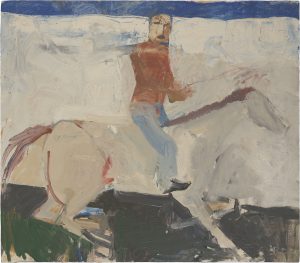 The exhibition "Richard Diebenkorn: Beginnings, 1942-1955" does a good job busting up a pretty entrenched assumption.
A standard timeline of the artist, one of California's most important painters, has him launching headlong into Abstract Expressionist waters (when he lived in New Mexico), pulling back to representational landscapes and figures in interiors (in the Bay Area), then returning to full abstraction with ethereal veils of structured color in the great "Ocean Park" paintings (in Los Angeles). But the narrative is not that simple.
At the Frederick R. Weisman Museum of Art at Pepperdine University, a handsome traveling exhibition organized by Sacramento's Crocker Art Museum in conjunction with the Richard Diebenkorn Foundation zeroes in on his early years. Before there was Ab Ex, it handily demonstrates — and for a while afterward too — he was all over the map.
Which is to be expected. Diebenkorn was feeling his way through.
Diebenkorn was 23 when his Marine Corps service ended along with World War II. By the time he settled in Albuquerque five years later, in 1950, he had a wife and two kids, and the family had crisscrossed the country, living in San Francisco, Woodstock, N.Y., and Sausalito. He finished a degree from Stanford, where the war had interrupted his studies, and he was picking up visual information all along the way.