NPR: In Ocean Park, Gentle Portraits of California Light
March 2, 2012
By Susan Stamberg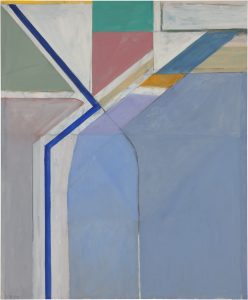 In the late 1960s, while America was in turmoil over the Vietnam War and the assassinations of Martin Luther King Jr. and Robert Kennedy, a painter in Santa Monica, Calif., was creating a series of tranquil, glowing canvases that made his reputation and transfixed art lovers. Those works — the Ocean Park series — are now on view at the Orange County Museum of Art, about an hour's drive from the place where they were painted.
Main Street, running through the Ocean Park neighborhood of Santa Monica, is two blocks from the Pacific Ocean. The thoroughfare hums with cars, young families pushing strollers, aging hippies and fancy coffee machines.
Walk a bit, and you'll pass shops, restaurants and beach-y bungalows that can sell for $1 million or more. The Ocean Park you see in 2012 is very different from what it was in 1967, when Richard Diebenkorn began painting his Ocean Park series.