Sacramento Bee: Never before seen Diebenkorn works at the Crocker
October 26, 2017
By Julia Couzens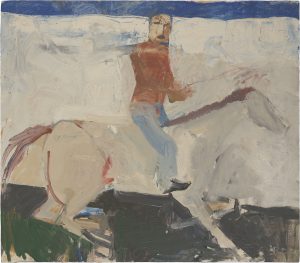 Blockbuster museum shows attract cheek-by-jowl crowds of viewers who leave breathless with shopping bags full of mugs, playing cards, notepads and pencils imprinted with the exhibition's greatest hits. But it is the small show of deep scholarship that can add a meaningful new paragraph to art history and that will have lasting impact.
"Richard Diebenkorn: Beginnings, 1942-1955" is just such a show. Organized by the Richard Diebenkorn Foundation in collaboration with Crocker Art Museum Associate Director and Chief Curator Scott Shields, this important survey presents 100 drawings and paintings made in the artist's 13 formative years.
This groundbreaking exhibition methodically delineates Diebenkorn's searching formal progression from representational landscape to semi-abstraction (influenced by such artists as Joan Miro and Arshile Gorky) to the abstract expressionism for which Diebenkorn was first recognized. The show makes the definitive case for Shields' argument that Diebenkorn did not spring whole from abstract expressionism, as is commonly thought. Rather, the painter open-handedly and open-mindedly explored many methods, styles and a rich conceptual diversity before achieving early status as one of California's premier abstract expressionists.