The New Criterion: Matisse & Diebenkorn at the Baltimore Museum of Art
January 24, 2017
By Andrew Shea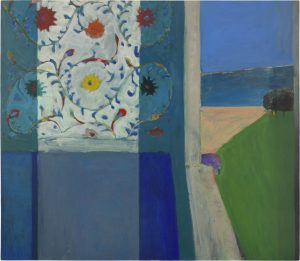 "Matisse/Diebenkorn," the current exhibition at the Baltimore Museum of Art, frames the American painter Richard Diebenkorn as a stylistic descendant of Henri Matisse. The show's comparison between the two is not a new one—viewers familiar with both Matisse and Diebenkorn have long been struck by their shared mastery of color structure and line. They were both "painter's painters": artists who rejoiced primarily in the medium of paint, who cared deeply about the tradition of that medium, and who privileged formal matters over conceptual postulation or literary narrative. The idea is to have the work speak for itself—to follow the dictum attributed to Edward Hopper: "If you could say it in words, there would be no reason to paint." The result is that Matisse and Diebenkorn share in saying a whole lot.
Despite their long-evident similarity, the BMA claims to be the first to connect these two artists in exhibition, bringing them together to directly demonstrate the influence of Matisse on Diebenkorn's work. The exhibition, which runs through January 29, makes the point that Diebenkorn could not have happened without Matisse, and does so in a few ways. First, books on Matisse from Diebenkorn's personal library are displayed throughout the galleries. But more broadly, the exhibition provides biographical information on Diebenkorn's life as it pertains to his exposure to Matisse's work. Important moments include Diebenkorn's first sight of his predecessor's work in the home of the Palo Alto collector Sarah Stein, his visits to Matisse retrospectives in Los Angeles in 1952 and 1966, and his 1964 tour of the Soviet Union, during which he saw paintings by the French artist in both St. Petersburg and Moscow. Finally, and most importantly, the exhibition compares the two artists through its careful hangings of their works. Scattered among the larger and more assertive Diebenkorns are paintings and drawings by Matisse, carefully selected as works that Diebenkorn had specifically seen throughout his career.
Diebenkorn is increasingly recognized as one of the premier American painters of the twentieth century—his catalogue raisonné was just published last October by Yale University Press. His unfortunate characterization as a "west-coast painter," however, along with the relative unavailability of his paintings in the Eastern United States, has somewhat inhibited public recognition of his work on a national level. The Baltimore curator Katy Rothkopf seems to have sensed this underexposure—in spirit, the exhibition feels like a retrospective of the Californian's career. For the many fans who have long loved Diebenkorn's work but have not had the chance to see more than a few of his paintings in person, the weighted balance of the exhibition in his direction was welcome. The BMA's grand collection of his body of work is exhaustive and repeatedly breathtaking.