The New York Review of Books: Cool, Sublime, Idealistic Diebenkorn
January 19, 2017 Issue
January 4, 2017
By Jed Perl
Matisse/Diebenkorn
an exhibition at the Baltimore Museum of Art, October 23, 2016–January 29, 2017; and the San Francisco Museum of Modern Art, March 11–May 29, 2017
Catalog of the exhibition by edited by Janet Bishop and Katherine Rothkopf
Baltimore Museum of Art/San Francisco Museum of Modern Art/DelMonico/Prestel, 183 pp., $49.95
Richard Diebenkorn: The Catalogue Raisonné
edited by Jane Livingston and Andrea Liguori
Richard Diebenkorn Foundation/Fine Arts Museums of San Francisco/Yale University Press, four volumes, 2,176 pp., $400.00
Richard Diebenkorn: The Sketchbooks Revealed
edited by the Cantor Arts Center
Stanford University Press, 296 pp., $45.00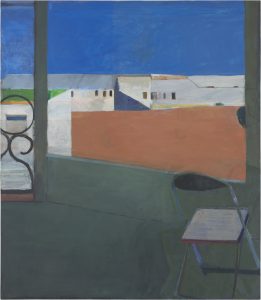 Universal acceptance, however desired, has its problems. The critics and historians, as they heap on the praise and outdo one another in feats of analytical subtlety, can smooth out the quirks and complexities that give an artist's work its stand-alone power. Richard Diebenkorn was beginning to receive this kind of bland adulation even before he died in 1993 at the age of seventy. His achievement, so full of surprises and perplexities, has been muffled and sanitized. His evolution from the jagged melancholy of the figures and landscapes that he painted in the 1950s to the quietism of his later Ocean Park abstractions has been fast-tracked into an Olympian ascent. He's been enshrined in the museums. I worry that an artist of whom nothing negative can be thought, much less said, is an artist who doesn't really matter.
Diebenkorn's reputation has never been loftier than it is right now. "Matisse/Diebenkorn"—organized by the Baltimore Museum of Art and the San Francisco Museum of Modern Art and currently in Baltimore—thrusts the artist into a face-off with one of the founding fathers of modernist painting. This is a confrontation that Diebenkorn himself might have found not only immensely flattering but also rather daunting and maybe even a little disconcerting. A sumptuous, four-volume catalogue raisonné of Diebenkorn's paintings and works on paper has just been published, edited by Jane Livingston and Andrea Liguori. Here we have our first opportunity to see his career complete, with Diebenkorn's enormous output of works on paper gathered around his contemporaneous oil paintings. His printmaking, another considerable achievement, will be the subject of a separate volume.
A valuable companion to the catalogue raisonné is The Sketchbooks Revealed, which is based on a gift of twenty-nine sketchbooks from the artist's widow, Phyllis Diebenkorn, and the Diebenkorn Foundation to the Cantor Arts Center at Stanford University. The publication of the sketchbooks, by an institution where Diebenkorn studied as an undergraduate, offers an unprecedented opportunity to observe his imagination at its most unfettered and adventuresome.
The catalogue raisonné presents Diebenkorn's career in three distinct phases. The artist's most ardent admirers probably regard his achievement as having a thesis-antithesis-synthesis shape, although I'm not sure that anybody has made the case in so many words. In the catalogue raisonné each period has its own volume; an introductory volume contains critical essays and an extensive chronology and bibliography.