Washington Post: Great Works, In Focus—Drenched in Light
Richard Diebenkorn's coastal landscape does everything you could ask an artwork to do
September 15, 2021
By Sebastian Smee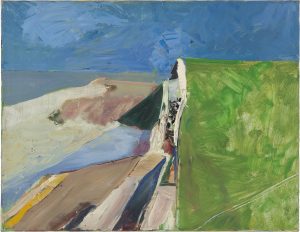 Richard Diebenkorn's "Seawall" at the de Young Museum in San Francisco is a painting I can imagine mumbling about on my deathbed. "Something about paint … about light … light and strong shadow … the sea, the air …" At which point I think I'd be about ready to expire.
I'm not trying to get ahead of myself. I'm just trying to say that, for me, this painting has — to an almost startling degree — what some very deep, scarcely examined part of me most wants from art. It's totally in tune with itself, with the world it depicts, and somehow also (oh, miraculous art!) with me. The only reason you'd say anything in its presence would be to prolong the impossible moment, like Hugh Grant in his bookshop in "Notting Hill" mumbling inanely away in front of Julia Roberts.
It's no Mona Lisa, of course. It's just a rough little daub. But its modesty is somehow an index to its authenticity. Get up close and you can see pretty much every brushstroke. Some were made with a loaded brush. You can see how the bristles zigzagged back and forth depositing the juicy blue of the sky or the thinner green of the grassy hill on the right.