Cantor Arts Center's New Exhibitions Celebrate Major Acquisitions of Works by Richard Diebenkorn and Edward Hopper
Richard Diebenkorn: The Sketchbooks Revealed
Edward Hopper: New York Corner
September 23, 2016
Exhibitions open September 9, 2015
EXHIBITIONS EXTENDED TO AUGUST 7, 2016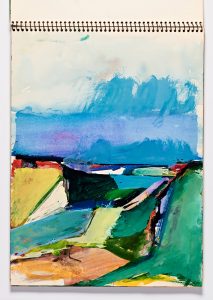 Stanford, Calif.—The Cantor Arts Center is pleased to present the unparalleled collection of 29 sketchbooks of Richard Diebenkorn alongside a recent acquisition of one of Edward Hopper's earliest paintings. Renowned Bay Area artist Richard Diebenkorn studied the work of early 20th-century American painter Edward Hopper when he was a student at Stanford in the early '40s. He was deeply affected by this artistic encounter, and reflected on it several decades later in 1985: "I embraced Hopper completely….It was his use of light and shade and the atmosphere…kind of drenched, saturated with mood, and its kind of austerity," Diebenkorn recalled. "It was the kind of work that just seemed made for me. I looked at it and it was mine."
Inspired by this jewel of a memory, the Cantor presents two exhibitions that visually pair these great American artists. Richard Diebenkorn: The Sketchbooks Revealed celebrates the recent acquisition of 29 sketchbooks kept by Diebenkorn throughout his career. The sketchbooks have never been studied and are on view to the public for the very first time. Edward Hopper: New York Corner celebrates the Cantor's acquisition of a major early painting that Hopper created when he was just 31 and still struggling to establish himself. It is considered the first work made in his representative style.
The exhibitions mark a major moment in the museum's commitment to expanding and deepening its collection, said Cantor Director Connie Wolf. "The recent gift of all of Diebenkorn's sketchbooks and the recent acquisition of the exceptional painting by Edward Hopper support new interdisciplinary approaches to the study and engagement of 20th-century American art and culture here at Stanford. These extraordinary works add greatly to our understanding of American art and offer scholars, artists, students and the broader community an unprecedented opportunity to learn from and engage with these works in new and important ways."
Both exhibitions open September 9, 2015 and run through February 8, 2016. Both have been EXTENDED to August 22, 2016.
Richard Diebenkorn: The Sketchbooks Revealed
Throughout his long career, Richard Diebenkorn (Stanford B.A. '49) always kept a sketchbook—a portable studio—to capture his ideas. The books contain 1,045 drawings that span the artist's career and represent the range of styles and subjects he explored—from deeply personal sketches of his wife, Phyllis, to studies of the figure, to grand landscape studies, to the development and maturation of Diebenkorn's signature style, a rich blending of figuration and abstraction.
"This extraordinary collection is unprecedented in understanding an artist's process so that students, scholars and the general public can better understand Diebenkorn's style of working," said Wolf. "Presented together, the sketchbooks become a revelation of sorts, offering intimate access to the practice of a well-known, important and prolific artist. At Stanford they will serve for years to come as an extraordinary resource."
The Cantor Arts Center is especially grateful to the late Phyllis Diebenkorn, who made possible this extraordinary gift of the sketchbooks. The Diebenkorn family has a long and important relationship to Stanford University. After attending Lowell High School in San Francisco, Richard Diebenkorn entered Stanford University in 1940 to study studio art and art history. In June, 1943, he met and married fellow Stanford student Phyllis Gilman. After the war, Diebenkorn returned to Stanford and graduated in 1949. Their daughter Gretchen also attended Stanford and received her B.A. in 1967 and her M.F.A. in 1969. She met and married fellow Stanford student Richard Grant, who graduated in 1968 and now serves as the executive director of the Diebenkorn Foundation. The Cantor has an important collection of other works by Diebenkorn, including paintings, drawings and prints, which are regularly on view in the museum's permanent collection galleries.
The display of the sketchbooks poses a challenge, since visitors can see only one page-spread of each sketchbook. To enhance and deepen the experience, the Cantor has just completed the digitization of all 29 books and has installed touchscreen interactives, developed by Earprint Productions, in the gallery. Additionally, these interactives are available online at: diebenkornsketchbooks.stanford.edu. Not only can visitors leaf through the books digitally and see every sketch in the order conceived, but they can get a sense of how Diebenkorn experimented with line, shape, form and perspectives and creatively tackled challenging subjects.
To augment the sketchbooks and illuminate the work that Diebenkorn created when he was at Stanford studying Edward Hopper, the exhibition includes loans of Diebenkorn's earliest works, many of which are on display to the public for the very first time.
A special publication accompanying the exhibition introduces the sketchbooks. Richard Diebenkorn: The Sketchbooks Revealed features four essays by Stanford-affiliated contributors: Enrique Chagoya (Professor of Art Practice), Alexander Nemerov (Carl and Marilynn Thoma Provostial Professor in the Arts and Humanities), Peggy Phelan (Ann O'Day Maples Professor in the Arts, Professor of Drama and of English) and art historian Steven A. Nash (Stanford Ph.D., Art History, '73). Gretchen Diebenkorn Grant has contributed a remembrance. The publication also features several hundred images that represent all of the sketchbooks.