Matisse / Diebenkorn – On view at SFMOMA from March 11 through May 29, 2017
October 22, 2016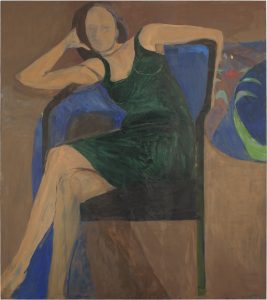 Featuring two of the Bay Area's artistic heroes, Matisse/Diebenkorn will be the first major exhibition to explore the profound inspiration Richard Diebenkorn (1922-1993) discovered in the work of French modernist Henri Matisse (1869-1954). On view at SFMOMA from March 11 through May 29, 2017 after its initial presentation at the Baltimore Museum of Art, the expanded San Francisco exhibition will feature approximately 100 objects—40 paintings and drawings by Matisse and 60 paintings and drawings by Diebenkorn—from museums and private collections throughout the U.S. and Europe.
Following the trajectory of Diebenkorn's career, the exhibition will illuminate how this influence evolved over time through different pairings and groupings of both artists' work. As a Stanford University art student in 1943, Diebenkorn first saw the work of Matisse at the Palo Alto home of Sarah Stein, one of the French painter's earliest champions. While stationed at Quantico, Virginia, during World War II, Diebenkorn pursued a serious study of Matisse's paintings in East Coast museums. These experiences introduced subjects, compositional strategies, a palette, and techniques that would later tremendously impact Diebenkorn's work. Outstanding selections from his Urbana and Berkeley periods (1953-55), representational period (1955-67) and Ocean Park period (1968-80) will be shown side by side with seminal works by Matisse. The exhibition will reveal the lasting power of Diebenkorn's firsthand experiences of the French artist's work, from the Matisse retrospectives he saw in Los Angeles in 1952 and 1966 to his visits to see the great Matisse collections at the State Hermitage Museum and the Pushkin Museum in the Soviet Union in 1964.
With a longstanding history in the Bay Area, Matisse's expressive paintings were first introduced to San Francisco shortly after the 1906 earthquake, shocking the arts community with their startling colors and brushwork. The artist's very first west coast survey was held at SFMOMA in 1936, a year after the museum was founded. His work—specifically Femme au chapeau (Woman with a Hat), 1905—has become a historical anchor to SFMOMA's painting and sculpture department. Diebenkorn had deep personal and professional connections with the area, growing up in San Francisco's Ingleside Terraces neighborhood; attending Stanford University and the University of California, Berkeley; and excelling as a student and instructor at the San Francisco Art Institute (then the California School of Fine Arts), and as an instructor at the California College of the Arts. Though they never met, Matisse and Diebenkorn will be connected through this stunning exhibition as never before, allowing visitors to discover new views of the artists long-beloved in the Bay Area.