Richard Diebenkorn: A Retrospective
A comprehensive new monograph featuring a revelatory interview with artist Wayne Thiebaud
August 15, 2019
Berkeley, CA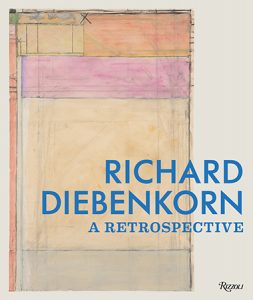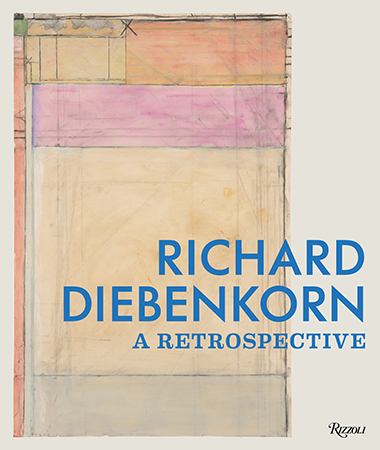 This September, Rizzoli New York will introduce Richard Diebenkorn: A Retrospective, the most comprehensive monograph yet published on the distinguished American painter, draftsman, and printmaker for readers of all backgrounds and levels of interest. A visually striking object (measuring nearly 10 by 12 inches), the book includes a handsome slipcase box and features 340 illustrations in new color photography.
Scholars and aficionados of the artist will recall the four-volume Richard Diebenkorn: The Catalogue Raisonné (Yale University Press, 2016), a reference for specialists. But, as Steven A. Nash, a preeminent authority on the artist and President of the Richard Diebenkorn Foundation, writes in the preface, when Rizzoli approached the foundation to co-produce a monograph with an exceptionally large selection of illustrated works, "we leapt at the opportunity, recognizing that it provided a chance to offer to a wider general public what, in effect, was a condensed version of the catalogue raisonné's range and depth."
A luminous, fresh mix of work from all periods and styles
A singular artist, Richard Diebenkorn (d. 1993) successfully explored both abstract and figurative painting, and as Mr. Nash asserts "enjoyed as an asset his geographical and stylistic independence from post-World War II art developments on the East Coast." In a departure from comparable titles, the monograph "does not follow the usual 'greatest hits' approach found in most monographs but instead, mixes with well-known and well-published works a great many paintings and drawings that have not become such common reference points for the artist, thus providing a more rounded picture of his art and career."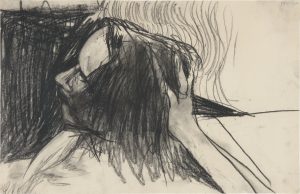 At the same time, this richly satisfying new book, which includes an illustrated chronology of the artist's life, spans the full range of the artist's career from his abstractions of the 1940s and 1950s and figuration of the 1950s and 1960s, to his epic cycle, the Ocean Park series. It includes not only his iconic paintings of the California landscape, interiors, still lifes, and nudes, but many of his less-well-known and rarely published works, such as Untitled (Woman, Hand on Head) a penetrating and emotionally powerful 1962 drawing in conté crayon that has not been on view since the late 1980s when it was included in a survey on the artist's drawings organized by John Elderfield, now Chief Curator Emeritus of Painting and Sculpture at the Museum of Modern Art in New York.
And a new and fresh voice, the art historian Sasha Nicholas explores in a fascinating essay the "fertile tension between abstraction and representation that underlies all of Diebenkorn's work." Ms. Nicholas, who has had an awareness of the artist since her youth and worked as an intern at the Whitney Museum of American Art in New York when, in 1997, curator Jane Livingston organized the highly acclaimed retrospective The Art of Richard Diebenkorn, argues that it was "this tension that enabled Diebenkorn to play a leading role in postwar American art while at the same time evading easy classification."
Personal, revelatory insights
A novel approach has also been taken with the texts that vividly bring the artist and his creative process alive and freshly anew for all audiences. Personal, affecting commentaries from people who knew Richard Diebenkorn well, rarely found in similar publications, are dispersed among the color plates.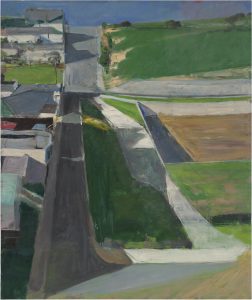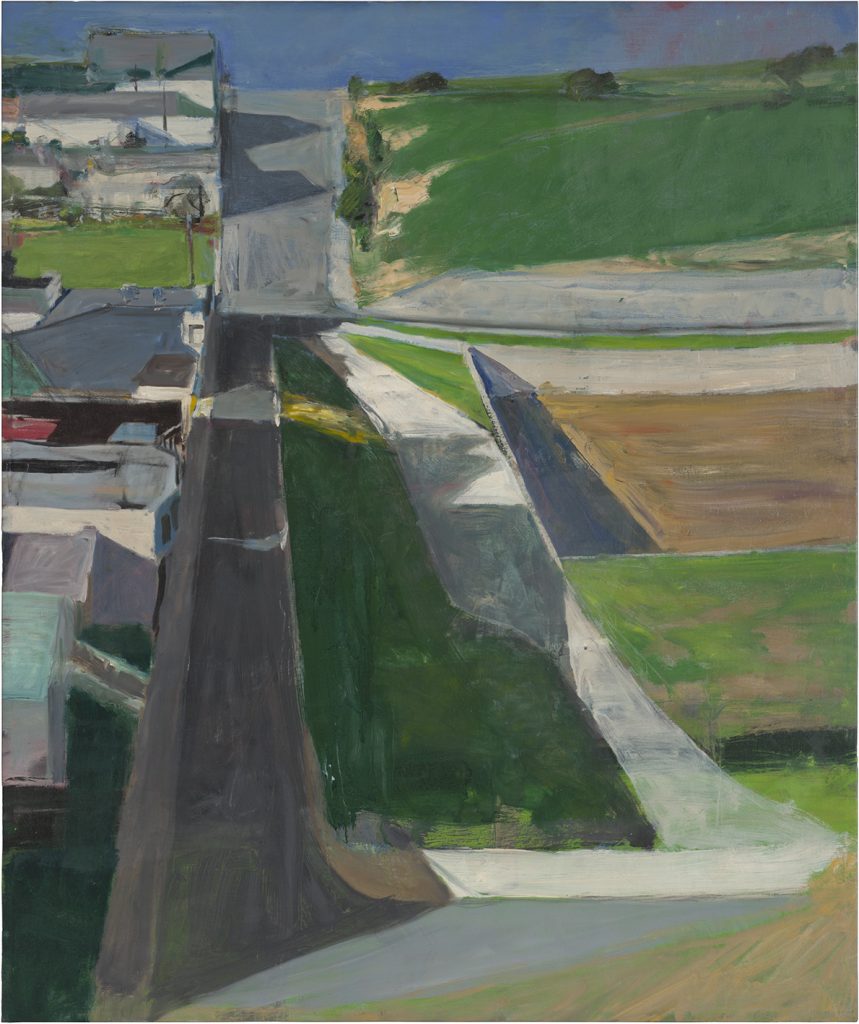 The artist Wayne Thiebaud (b. 1920), known for his still lifes and landscapes, some of which were on view last year at the Morgan Library & Museum in New York and the Museum Voorlinden in the Netherlands, talks with great affection and detail about his friendship with the artist in an interview conducted by Mr. Nash. The two discuss the much known and beloved Cityscape #1 (1963), an oil on canvas, that Mr. Thiebaud confesses, "set me on my own path to cityscapes. It was very influential, very dear to me….Turn it upside down and it creates this huge plunge."
The artist Tony Berlant (b. 1948), whose work was included in one of the earliest exhibitions of Pop Art on the West Coast, was a student of Richard Diebenkorn's who later became a friend and colleague, teaching alongside the artist at the University of California, Los Angeles and sharing an office with him and the artist William Brice (d. 2008). "Dick exemplified the artist who worked for an audience of one," he writes in an essay that conjures Southern California in the late 1960s and 1970s, and "his shifts from abstraction to figuration and back came through impulse, rather than theory."
The artist's daughter, Gretchen Diebenkorn Grant, who has lectured on her father's life and art over the years, contributes an emotional and somber essay, in which she speaks about "a group of drawings," such as Untitled (View of Deck) (1965), "that my father created during the year 1964…a year of mourning for him." She mentions the assassination of President John F. Kennedy the year prior, recalling that in spring of 1964, "my paternal grandfather became sick and rather suddenly died." Her essay touches on the "inanimate objects that my father looked at and handled on a daily basis at home and in his studio," like his glasses, scissors, and a magnifying glass, as well as cutlery, the mail, and an ashtray.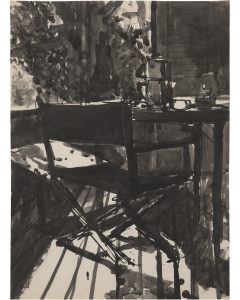 Kathan Brown, Founding Director of Crown Point Press, a publisher and printer of fine art etchings since 1962, brings to life in her "Remembering Richard Diebenkorn" fond memories and key moments of working with the artist, such as the year 1986 when, in the Crown Point studio in Oakland, "he created his largest (36 by 45 inches) and most celebrated print, titled Green."
Ambassador William Luers, a retired American career diplomat and former President of the Metropolitan Museum of Art, was a close friend of Richard Diebenkorn and the artist's widow, Phyllis (d. 2015). The ambassador served as companion and guide on their 1964 visit to the Soviet Union, and he reminiscences in a fascinating essay how the journey changed the artist's career.
The monograph, as was the artist's catalogue raisonné, was printed at Trifolio in Verona, Italy, using their advanced and state of the art proprietary color technology, which provides a range and depth of color that has not been possible until only recently.
Remarking on the project with Rizzoli, Mr. Nash adds that "writers on Diebenkorn have often struggled with the question of how he fits into the postwar history of American art." But, as a nod to the next generation, "in our current age of artistic pluralism and multiculturalism, we have come to understand that 'fitting in' is much less important than the quality and depth of individual creativity. It is within this broadened historical perspective that Diebenkorn's work over recent decades has become more fully recognized and appreciated."
For more information, and to pre-order Richard Diebenkorn: A Retrospective, please visit Rizzoli.
Explore the title and talk with us on Instagram @diebenkornfoundation, @rizzolibooks, and @trifoliosrl.