Richard Diebenkorn: Beginnings, 1942–1955 opens October 8, 2017 at the Crocker Art Museum, Sacramento
First survey of the American artist's earliest work; rarely seen paintings and drawings precede Diebenkorn's move to figuration
August 23, 2017
Sacramento, CA and Berkeley, CA
Exhibition: Richard Diebenkorn: Beginnings, 1942–1955
Venue: Crocker Art Museum, 216 O Street, Sacramento, CA
Dates: October 8, 2017—January 7, 2018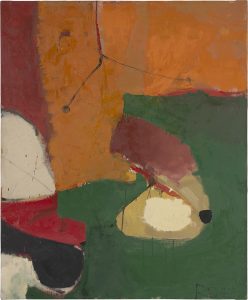 The Crocker Art Museum will present Richard Diebenkorn: Beginnings, 1942–1955, from October 8, 2017 to January 7, 2018. Organized by the Richard Diebenkorn Foundation in conjunction with the Crocker, this traveling exhibition is the first to solely examine the work Diebenkorn made prior to his switch to figuration. It focuses on the artist's stylistic and technical origins in oil, watercolor, gouache, ink, crayon, and collage, tracing Diebenkorn's evolution from representational landscape, to semiabstract and Surrealist-inspired work, to his mature Abstract Expressionist paintings from the Sausalito, Albuquerque, Urbana, and​ early​ Berkeley years. Accompanied by​ a fully illustrated scholarly publication by Crocker Art Museum Associate Director and Chief Curator Scott A. Shields, the exhibition counters the prevailing notion that Diebenkorn began his career as a painter in the​ Abstract Expressionist style. In fact, Diebenkorn himself placed his beginnings in representation. "Though his evolution was rapid, he [Diebenkorn] did not suddenly arrive on the scene as an Abstract Expressionist prodigy," asserts Shields. "He investigated many styles and ideas to get there."
The examination is a landmark contribution to the study and understanding of Diebenkorn, who Shields asserts is "the greatest artist California has yet produced." Later periods in the artist's development have been surveyed in exhibitions and publications, but Beginnings is both the first ​full-scale​ exhibition and publication to chronicle the artist's paintings and drawings from early to mid-1940s, as well as the mature abstractions that the artist started to make later in the decade while on the faculty of the California School of Fine Arts (CSFA) in San Francisco.
Background
Focused exclusively on paintings and drawings made between 1942 and 1955, Beginnings features 100 works from the collection of the Richard Diebenkorn Foundation, most of which have never before been publicly exhibited. These little-known works range from World War II drawings and watercolors of soldiers and military bases, to abstractions that unite the forms of Surrealism and the fractured planes of Cubism,​ to gestural works on paper. The show concludes with one of the artist's first mature figurative paintings, his 1954 Untitled (Horse and Rider), laying the foundation for the representational drawings and paintings soon to come (1955–1966).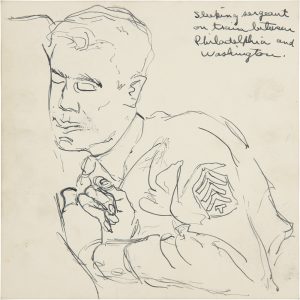 Beginnings reveals the forces that shaped Diebenkorn as a young artist: the landscape; his service in the U.S. Marines; and his teachers and mentors, most notably painter David Park, whose artistic and paternal guidance lasted until Park's early death in 1960. It also evidences the influence of artists he admired, including Arshile Gorky, Joan Miró, and Willem de Kooning; as well as the writings of art critic Clement Greenberg. "Diebenkorn's early works show the artist rapidly assimilating art from various time periods and locales," argues Shields.
In the second half of the 1940s, Diebenkorn attended and then taught classes at CSFA (now San Francisco Art Institute) where, Shields says, "Diebenkorn learned from Clyfford Still that painting must not be pretty and from David Park that it should not be easy to make. Diebenkorn came to relish the search and struggle, making them critical components of his art and battling against his innate predisposition toward the refined, gracious, and elegant, creating a tension he exploited to maximum advantage." Beginnings brings to life the moment in Berkeley in 1954 when, just as Diebenkorn was being hailed as California's leading Abstract Expressionist painter, he felt his art had perhaps become too polished, prompting him to shift to landscapes and the figure.
Beginnings originated during meetings in the mid 2010s between Shields and Andrea Liguori, Managing Director of the Richard Diebenkorn Foundation. Liguori was in the final stages of research and development of Richard Diebenkorn: The Catalogue Raisonné (Yale University Press, 2016), the definitive resource on the artist's work (including sketches; drawings; paintings on paper, board, canvas; and sculptural objects), when she asked Shields to curate an exhibition for a multi-museum tour. Shields noted the rich variety and depth of the Foundation's holdings of Diebenkorn's early work and proposed it as the focus. Said Liguori: "The variety in the artist's output, and its response to the forces that influenced him in his art making, invited a much closer look. We hadn't yet seen a museum exhibition of Diebenkorn's work preceding 1950, and with the catalogue raisonné providing the public with the first complete look at the early productions, Scott instantly recognized its importance and was eager to explore it more deeply."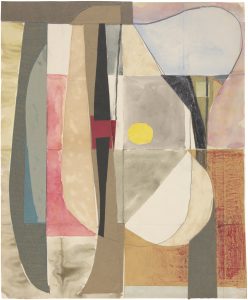 Fully Illustrated Publication
Beginnings includes a fully-illustrated scholarly publication (Pomegranate, 2017) featuring nearly 200 hundred paintings and drawings in stunning new color photography produced by the Richard Diebenkorn Foundation.
Shields explores the artist's journey of self-discovery involving pivotal artistic mentors and influences, including painter John Marin; Wolfgang Paalen's magazine Dyn, wherein the artist viewed reproductions by William Baziotes and Robert Motherwell; Clyfford Still, whose influence at CSFA resulted briefly in Diebenkorn experimenting with dark, angular forms and colors; Hassel Smith; Willem de Kooning, the artist's hero; Raymond Jonson, landscape painter turned transcendental abstractionist; Henri Matisse; and painter David Park and other practitioners of the Bay Area Figurative style​. Shields elucidates the "revolution," as Diebenkorn put it, of Abstract Expressionism among San Francisco's avant-garde in the late 1940s and charts the artist's precocious rise as the region's leading Abstractionist. He also explores the complicated and enduring relationship between Diebenkorn and Park, of which Diebenkorn said: "I was the younger, the learner in our relationship." Park and Diebenkorn, along with Elmer Bischoff, came together in 1954 for Berkeley drawing sessions from the live model, being joined by Frank Lobdell and sometimes Paul Wonner and William Theophilus Brown​. The publication includes a foreword by Richard Diebenkorn Foundation President and scholar Steven A. Nash, PhD, as well as a chronology, selected bibliography, and exhibition checklist​.
Other Venues
In 2018, Beginnings travels to The David Owsley Museum at Ball State University, Muncie, IN; and Portland Art Museum, Portland, OR. In 2019, the exhibition will be on view at the Frederick R. Weisman Museum of Art, Pepperdine University, Malibu, CA; and Academy Art Museum, Easton, MD.
Public Program Highlights
Symposium: On Diebenkorn
Saturday, October 21, 11:00 a.m.– 4:00 p.m.
Talks by Crocker Associate Director and Chief Curator Scott A. Shields; Richard Diebenkorn's daughter Gretchen Diebenkorn Grant; and Richard Diebenkorn Foundation Head of Archives Daisy Murray Holman in conversation with artists Chester Arnold and Christopher Brown.
San Francisco Munich Trio
Sunday, October 8, 3:00 p.m.
In honor of the opening day of the exhibition Richard Diebenkorn: Beginnings, 1942–1955, along with Diebenkorn's love of classical music, the famed San Francisco Munich Trio will appear at the Crocker for a single concert featuring favorites from Beethoven to Mozart.
Lunch and Learn
1st Tuesdays, Noon and 1:00 p.m.
Join an in-depth examination of Urbana #2 (The Archer). Before or after a 30-minute gallery conversation, take time to enjoy lunch at the Crocker Cafe by Supper Club.
Tuesday, November 7: Richard Diebenkorn, Urbana #2 (The Archer), 1953
About the Crocker Art Museum
The Crocker Art Museum features the world's foremost display of California art and is renowned for its holdings of European master drawings and international ceramics. The Museum offers a diverse spectrum of exhibitions, events, and programs to augment its collections, including films, concerts, studio classes, lectures, children's activities, and more.
About Richard Diebenkorn Foundation
The Richard Diebenkorn Foundation expands knowledge and fosters appreciation of the artist and his role in central artistic developments of the 20th century. The Foundation increases public access to Diebenkorn's work and understanding of his legacy and times through support of exhibitions, loan of artworks, research, publications, archival services, and digital initiatives.
In 2016, the Foundation debuted Richard Diebenkorn: The Catalogue Raisonné (Yale University Press). This seminal 2,000 page reference contains more than 5,000 works illustrated in stunning new color photography and exhaustive documentation. The new diebenkorn.org provides unprecedented public access to the artist's work and archives.
VISITOR INFORMATION
The Crocker is located at 216 O Street in downtown Sacramento. Museum hours are 10 AM – 5 PM, Tuesday through Sunday, and 10 AM – 9 PM on Thursdays. General admission is free for Crocker members, Adults $10, Seniors and College Students $8, Young (7-17) $5, and Children 6 and under are free. Every third Sunday of the month is "Pay What You Wish Sunday", sponsored by Western Health Advantage. For more information, call (916) 808-7000, or visit crockerart.org.
Social media: @crockerart #crockerart #diebenkornbeginnings