Richard Diebenkorn: Paintings and Works on Paper 1946–1952
A new, scholarly text adapted from a landmark essay by curator Scott A. Shields now available online
March 19, 2020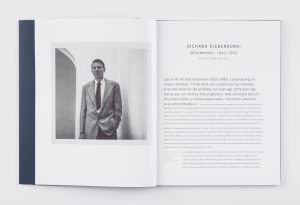 A new, scholarly text by Crocker Art Museum Associate Director and Chief Curator Scott A. Shields, an authority on Richard Diebenkorn's rarely seen origins in oil, watercolor, gouache, ink, crayon, and collage, accompanies Richard Diebenkorn: Paintings and Works on Paper 1946-1952 on view at Van Doren Waxter in New York from March 19 to May 9, 2020. The historical exhibition presents examples from the distinguished American painter, draftsman, and printmaker's early bodies of work that have never been shown in the northeastern United States but were exhibited in Richard Diebenkorn: Beginnings, 1942–1955 (2017–2019), organized by the Richard Diebenkorn Foundation in conjunction with the Crocker Museum in Sacramento. Shields's text, adapted from his landmark Beginnings essay, is printed inside a fully illustrated exhibition catalogue published by Van Doren Waxter Books that includes photography of the artist and his family from the Richard Diebenkorn Foundation Archives. The text is available for free to the public at vandorenwaxter.com.
"I think what one is about now has intimately to do with what one did yesterday, ten years ago, thirty years ago," Richard Diebenkorn (1922–1993) said later in life. Shields opens by saying that his essay "takes Diebenkorn at his word: that understanding his overall production depends on a broader knowledge of his early work."
Shields asserts that Richard Diebenkorn is "the greatest artist California has yet produced" and vividly brings to life his rapid evolution. "Diebenkorn was precocious, achieving initial success with his fully realized Abstract Expressionist paintings before age thirty," he enthuses, "and major recognition came first in 1948 with a solo exhibition at the California Palace of the Legion of Honor." Full-color spreads feature oils rarely seen since that show and produced by the artist in Sausalito, California during the late 1940s with their dark, angular forms, invoking Surrealism and the fractured planes of Cubism, such as the striking c. 1947 Untitled (cat. raisonné no. 547).
The Honest Search
Shields chronicles a young Richard Diebenkorn, abandoning the security of preliminary planning, "an incredibly important step" in his evolution as an artist, and in 1948 becoming improvisational after he had developed "the technical skills and personal confidence necessary to start each work afresh." He adds the painter made his work feel alive and created compelling tension in his work by avoiding "the natural grace of his line and brushwork, and his easily balanced compositions," instead using his brush "to scrub on pigment that at times looked messy or retained chunky deposits," such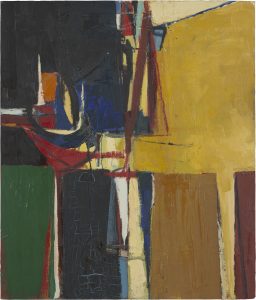 as Untitled (cat. raisonné no. 579) and Untitled (cat. raisonné no. 581), both from 1948. Ultimately, "what was most important to Diebenkorn was that his work be honest, that it exist for its own sake and on its own terms, that it communicate the process of its creation, and that it do so with directness. He relished the search and struggle," writes Shields. "A way," Richard Diebenkorn said in his lifetime, "is just what I don't want."
Miraculously Right
Shields includes a Richard Diebenkorn quote to great effect in the essay: "A successful painting has to have something of you and your experience within it." Successful works made in the early 1950s, of "discordant hues… seemingly random forms and energetically meandering lines," according to Shields, were produced during the artist's Albuquerque and Urbana periods and before his switch to figuration. A significantly scaled horizontal 1952 oil on canvas (cat. raisonné no. 1165)—measuring nearly four feet wide and consisting of reds, blacks, and repeating edge to edge forms that recall the mesas of western New Mexico—commands a two-page spread in the publication. Untitled (Albuquerque), an oil made in 1951 (cat. raisonné no. 1093), also appears in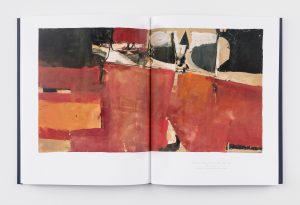 the catalogue, characterized by calligraphic forms, cut-out shapes, and "edifying layers…visible revisions" that Shields asserts would become a signature part of the artist's subsequent and acclaimed epic Ocean Park works.
During the temporary closure of Van Doren Waxter's 1907 townhouse in New York due to public safety concerns related to COVID-19, the gallery has made a widescreen digital reader of the exhibition catalogue essay available for free to the public, here.
Explore the publication and talk with us on Instagram @diebenkornfoundation and @vandorenwaxter
#RichardDiebenkorn #DiebenkornBeginnings #CrockerArt #VanDorenWaxter #TogetherAtHome