The Richard Diebenkorn Foundation announces a new diebenkorn.org and a forthcoming catalogue raisonné of prints
#diebenkorn #diebenkorntoday
October 5, 2021
Berkeley, CA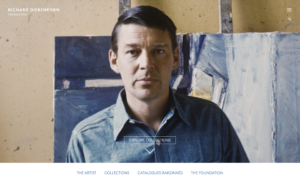 The Richard Diebenkorn Foundation, which expands knowledge and fosters appreciation of the singular and distinguished American painter, draftsman, and printmaker, today announced a new and greatly expanded diebenkorn.org and a forthcoming catalogue raisonné of prints. A nearly encyclopedic diebenkorn.org now features approximately 3,400 unique works and a sampling of the newly digitized artist's prints, advanced search functionality, new and original scholarly content, videos, and more. The Foundation also announced today that the definitive resource of the artist's work in printmaking—spanning more than 400 works in intaglio, monotype, and lithography produced between 1946 and 1993 and lavishly illustrated—will be published by Yale University Press in 2024.
A new and advanced diebenkorn.org
A refreshed and clean presentation now allows for more efficient navigation and exploration, including new typography and new vertical scrolling and key landing pages combined with more powerful search functionality. The website has been enhanced with researchers, scholars, and students in mind, including for the first time online the artist's chronology contained in the 2016 catalogue raisonné of unique works, the definitive biography of the artist's life. Users can also conduct refined searches of artworks within periods and mediums, a new "sticky" search function travels with users anywhere and everywhere on the site and is always visible, and all artworks are comprehensively documented including a dynamic bibliography that links to related works and exhibition history.
An emphasis on visual material, from artworks to archival materials over 8,000 items, includes a prominent zoom feature across the website with a window-box pop out and sharp, newly digitized, high resolution archival imagery. Scholars and enthusiasts alike will also enjoy features like "collect," which allows visitors to create and share collections of artworks via an easy drag and drop function, and the Foundation's social networks are always easily visible, such as the popular @diebenkornfoundation on Instagram. The platform has also been optimized for mobile.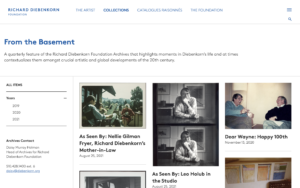 The expanded diebenkorn.org also features fresh scholarly content, such as the quarterly From the Basement produced by the Richard Diebenkorn Foundation Archives to invite a closer look at moments in history that impacted Richard Diebenkorn's development as an artist and spotlight rarely seen correspondence and photographs alongside art he was producing at the time. A recent feature, "World War II Ephemera: An interview with Gretchen Diebenkorn Grant on her father's military service," contextualized newly digitized archival material recently on view at Van Doren Waxter, New York and newly available on diebenkorn.org, while "France, 1978," revealed that during an extended stay in the South of France the artist had produced consequential work in his epic Ocean Park cycle outside of California. An upcoming essay will look at the artist's special relationship with American photographer Leo Holub (1916–2010), who photographed Diebenkorn in nearly every decade of his working life, beginning in the 1960s. Visitors to the platform will enjoy a selection of videos, including a new and scholastic video that explores the artist's early work. And to mark the arrival of the new diebenkorn.org and the forthcoming catalogue raisonné of prints, diebenkorn.org will prominently feature newly digitized, rarely seen archival material that relates to his work in the medium.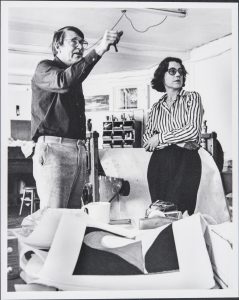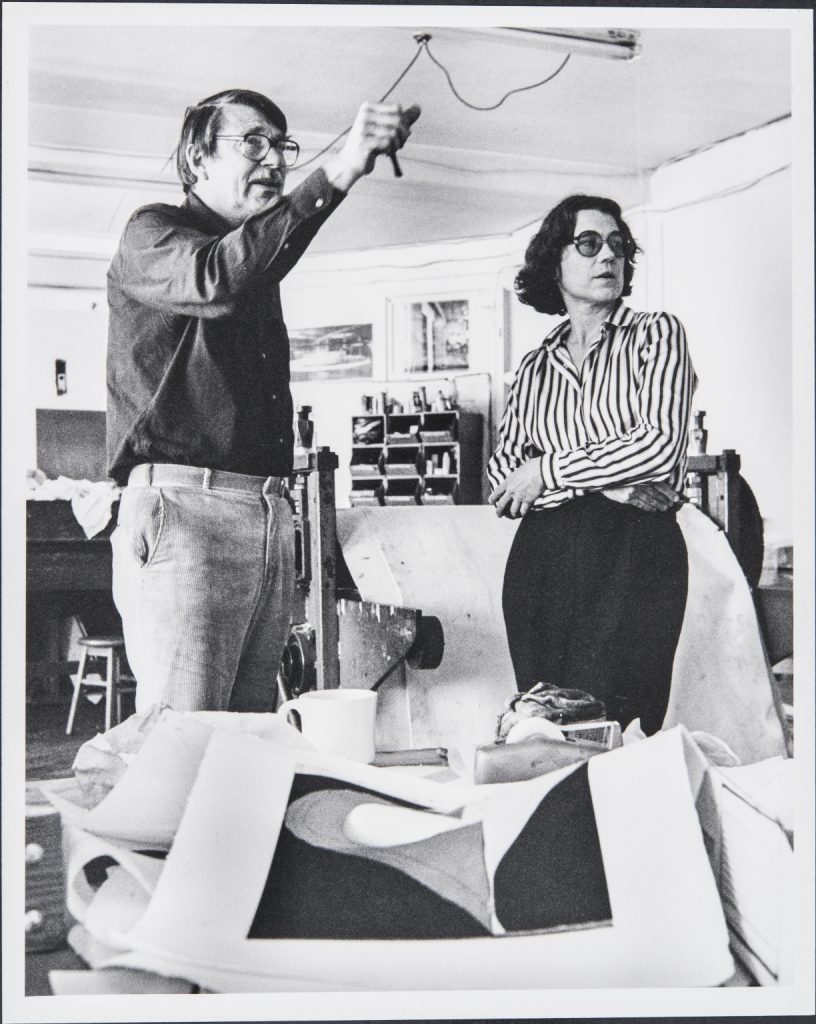 A new catalogue raisonné
Richard Diebenkorn (b. 1922–1993) was highly accomplished in printmaking and worked with professional print shops over a period of more than 30 years, 1962 to 1992, beginning with his first works with master printer and publisher Kathan Brown at Crown Point Press, the published series 41 Etchings Drypoints (1965). As a student in the 1940s Diebenkorn was introduced to printmaking at the San Francisco Art Institute and he went on to make his first monotypes in the early 1950s in Albuquerque. The new publication will include these previously unseen early prints as well as his unpublished prints from Crown Point Press in the early 1960s.
In 2024, the seminal reference of the artist's prints will be published by the Foundation with Yale University Press and printed at Trifolio Press in Verona, Italy. Andrea Liguori, Managing Director of the Richard Diebenkorn Foundation, serves as editor of the publication and will contribute a preface.
Liguori was the co-editor with legendary curator Jane Livingston for Richard Diebenkorn: The Catalogue Raisonné (Yale University Press, 2016), a four volume, 2,000 page reference containing more than 5,000 of the artist's unique works, including sketches; drawings; paintings on paper, board, canvas; and sculptural objects.
"A draftsman and a painter, printmaking came to Richard Diebenkorn so naturally and beautifully," said Liguori, who added the artist often turned to the medium to problem solve and explore and took on printmaking each decade from the 1940s through to the early 1990s. "We are delighted to announce that the volumes are forthcoming, as his work in printmaking is ripe for new scholarship."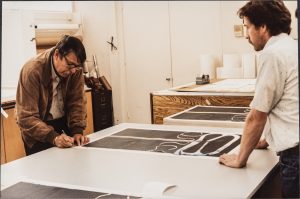 Karin Breuer, Curator in Charge, Achenbach Foundation for Graphic Arts (AFGA) at the Fine Arts Museums of San Francisco, is writing a series of essays organized by the artist's output at each print workshop, from Crown Point Press beginning in the 1960s to Tamarind Lithography Workshop in the same decade, to Gemini G.E.L. in the 1980s. Starr Figura, Curator, Department of Prints and Drawings, Museum of Modern Art in New York, will explore the role printmaking had in the artist's overall oeuvre as a process tool.
The slipcased, two-volume print catalogue will include select excerpts of interviews with several printers, a focused chronology by Daisy Murray Holman, Head of Archives, Richard Diebenkorn Foundation, that examines his print production in further detail, and lavish illustrations featuring photography, archival imagery, and the artist's working proofs. For example, working proofs held in the respective Crown Point Press Archives at the National Gallery and within the AGFA at the Legion of Honor in San Francisco, as well as the holdings of the Richard Diebenkorn Foundation, will be featured in spreads that bring to the life the artist's process, especially his penchant for using collage prior to making adjustments in the copper plates.
The Foundation also announced that in advance of the print catalogue's publication, video interviews conducted with printers will be released on diebenkorn.org.