The Richard Diebenkorn Foundation Announces Steven Nash as President, Board of Directors
October 22, 2016
Berkeley, CA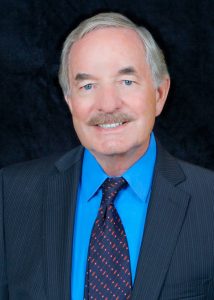 The Richard Diebenkorn Foundation announced today the election of Steven Nash as President, Board of Directors. Mr. Nash succeeds the late Phyllis Diebenkorn, widow of Richard Diebenkorn (1922-1993), one of the most significant and influential American artists working in the decades following World War II.
Mr. Nash is a highly accomplished museum professional, curator and scholar and served most recently as the JoAnn McGrath Executive Director of the Palm Springs Art Museum from April 2007 until his retirement in January 2015.
A preeminent authority on Richard Diebenkorn, Mr. Nash co-organized and was an essayist for the groundbreaking Richard Diebenkorn: The Berkeley Years, 1953-1966 (2013) at the de Young Museum in San Francisco and is a contributor in the forthcoming Richard Diebenkorn: The Catalogue Raisonné from Yale University Press.
"Steven brings a depth of vision, management and administration, combined with a critical and deeply felt interest in Richard Diebenkorn and his oeuvre," said Richard M. Grant, Executive Director of the Richard Diebenkorn Foundation. "This is a tremendously exciting moment for the Foundation, and we are thrilled that Steven will provide us with guidance and leadership."
"I knew Richard Diebenkorn, and so it is an absolute privilege and honor to be elected to this position," said Mr. Nash, who recalled his interest in the artist began when, in his first position after receiving his B.A. cum laude at Dartmouth College and his Ph.D. in art history at Stanford University, he met Richard Diebenkorn and his family at the Albright-Knox Art Gallery in 1976 during a retrospective of the artist's work. "We will strive to bring greater recognition and understanding to Richard Diebenkorn's remarkable output over a lengthy and highly productive career, and we will continue to support public exhibitions and foster new scholarship about the artist and his time."
Mr. Nash has carried out a wide variety of administrative and managerial duties, including participation in the design and installation of the Dallas Museum of Art as Deputy Director and Chief Curator (1980-88); an expanded California Palace of the Legion of Honor and De Young Museum as Associate Director and Chief Curator at the Fine Arts Museums of San Francisco (1988-2001); and the ground-up creation of the Nasher Sculpture Center in Dallas as Founding Director (2001-2007). At the Palm Springs Art Museum, he led the renovation of the museum's main building, oversaw the addition of two satellite facilities, helped develop the permanent collection and authored several publications. Mr. Nash has been responsible for the acquisition of more than 1,000 works of art and has organized surveys on numerous modern artists such as Naum Gabo, Henry Moore, Wayne Thiebaud, Robert Arneson, Alberto Giacometti and Henri Matisse; his work on Pablo Picasso includes multiple exhibitions and catalogues. He sits on various boards including the Nasher Sculpture Center and the Desert Biennial.
The Richard Diebenkorn Foundation has also seen the arrival of two new trustees who have a depth of expertise in preserving the art and legacies of artists and grantmaking that supports the creativity of artists—art historian and curator Sarah C. Bancroft, Executive Director of the James Rosenquist Foundation, and Associate Director of Curatorial Affairs at testsite in Austin, Texas; and Leah Levy, Director and Trustee of the Jay DeFeo Trust and a Director of Artists' Legacy Foundation. Ms. Bancroft, elected as Vice President to the Board of Directors, has held curatorial positions at the Solomon R. Guggenheim Museum and the Orange County Museum of Art. At OCMA, she organized Richard Diebenkorn: The Ocean Park Series (2011–12). In 2015 she curated Richard Diebenkorn for the Royal Academy of Arts, London. Ms. Levy served as founding Curator of Capp Street Project, a San Francisco-based artist-in-residency program to facilitate site-specific installations, begun in 1983 and now part of the Wattis Institute for Contemporary Art at California College of the Arts.
Other Board of Directors members are: Attorney Geoffrey Thomas, Secretary/Treasurer; Printmaker, Writer, and Founder and Owner of Crown Point Press in San Francisco Kathan Brown; and Estate Planning Attorney David Watts.
About the Richard Diebenkorn Foundation
Phyllis Diebenkorn (d. 2015) formed the Richard Diebenkorn Foundation in 2007 to research, document and preserve the art and legacy of her late husband. The Foundation assists curators, scholars and historians and provides loans from its collection to museums and academic institutions. The Foundation is currently organizing its archives to make available the artist's writings, tools, materials, papers and objects that became iconic images in his works. In addition, the Foundation supports art conservation, funds research and makes grants to support art education. In Fall 2016, Yale University Press will release Richard Diebenkorn: The Catalogue Raisonné, published in cooperation with the Foundation and the Fine Arts Museums of San Francisco.