Stanford News: Looking at Richard Diebenkorn at the Cantor
The Stanford exhibition celebrates a great American painter and alumnus.
September 23, 2019
By Robin Wander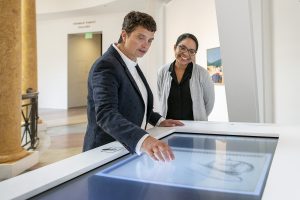 American painter Richard Diebenkorn's connection to Stanford is deep as well as broad.
Not only was Diebenkorn an alum, but even after his death in 1993, his impact has continued on campus thanks to the number of significant artworks given and lent to Stanford, the digitization of his sketchbooks and the documented examination via infrared technology of one of his pivotal works.
These elements come together for the first time in the ongoing installation titled Richard Diebenkorn at the Cantor in the Oshman Family Gallery at the Cantor Arts Center.
"While reinstalling our modern and contemporary galleries earlier this year, we realized that our collection – with a little help from the Richard Diebenkorn Foundation – could be paired with recent Stanford scholarship on the artist to present a mini-survey of his work," said Susan Dackerman, the John and Jill Freidenrich Director at the Cantor. "The museum is in the fortunate position to be able to show the evolution of his style, from early figurative painting through one of his renowned Ocean Park paintings."