A look back at a celebratory #Diebenkorn100
March 14, 2023
Berkeley, CA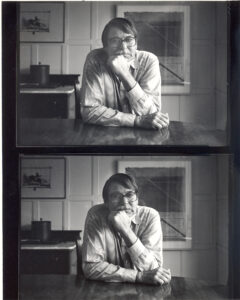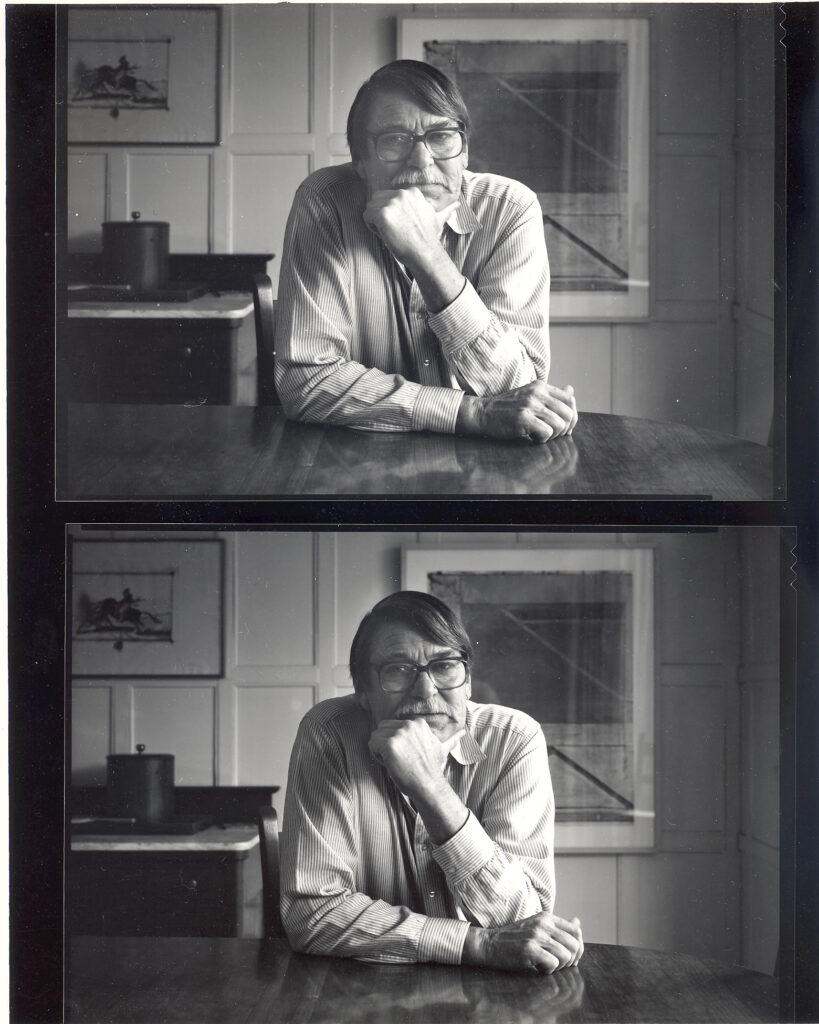 #Diebenkorn100, the coast to coast celebration of the distinguished artist's life and art, triumphantly culminated in December. The myriad online/offline festivities took place during what would have been the 100th birthday of Richard Diebenkorn (1922–1993). We would like to very warmly acknowledge and thank the hundreds of art lovers in social media using the celebratory hashtag #Diebenkorn100 and the more than sixty curators and staff at thirty-one museums, colleges, and universities who enthusiastically participated in the centennial, installing nearly 100 drawings, paintings, and prints.
From a festive outdoor Instagram Live conversation on the first day of summer in the sculpture garden of the Norton Simon Museum in Pasadena, California, with Emily Talbot, Chief Curator; to a special spotlight @BuffaloAKGArtMuseum written by Holly E. Hughes, the Godin-Spaulding Senior Curator for the Collection, on the museum's nearly eight foot tall Ocean Park No. 66 (1973); to a pair of unexpectedly heartfelt, funny reels with more than 70,000 views by Carin Adams, Curator of Art, @OaklandMuseumCA, that relate to the artist's paintings on view at the Bay Area institution and accompanied by specially prepared #Diebenkorn100 wall texts; to a series of essays in miniature contributed by a cadre of contemporary art critics exclusively for @DiebenkornFoundation and diebenkorn.org that surfaced lesser known information about the artist, such as his influence on Asian American painter Bernice Bing, the centennial was filled with affecting and critical moments in-person and online that brought the artist's work to front doors, screens, galleries, and museums.
As part of the kickoff, the Foundation released exclusively online a new video featuring excerpts of interviews conducted by Karin Breuer, Curator in Charge of the Achenbach Foundation for Graphic Arts at the Fine Arts Museums of San Francisco, with printers who knew and worked with Richard Diebenkorn, from Crown Point Press beginning in the 1960s to Tamarind Lithography Workshop in the same decade to Gemini G.E.L. in the 1980s. Introduced with a warm #Diebenkorn100 welcome by Andrea Liguori, Editor of the forthcoming Richard Diebenkorn: The Catalogue Raisonné of Prints and Managing Director at the Richard Diebenkorn Foundation, the video debuted simultaneously on @LegionofHonor and @DiebenkornFoundation. The videos highlight Diebenkorn's repeated and ongoing return to printmaking as a medium, and eight episodes will be released on diebenkorn.org in 2023 in anticipation of the forthcoming full-color, lavishly illustrated volumes (Yale University Press, 2024). The artist's prints were on view during #Diebenkorn100 at nearby Crown Point Press —where he made his first color prints in 1980 and where he made more prints than anywhere else in his career—in 1962-2022: A Celebration: 60 Prints for 60 Years, celebrating the sixtieth anniversary of Crown Point Press. And on the occasion of #Diebenkorn100, the de Young specially organized a chronological survey, through early March of this year, featuring 20 prints from Diebenkorn's color printmaking sessions at Crown Point Press, including color woodcuts produced at its program in Kyoto, Japan.
"The desire for discussion about Diebenkorn's art and life exceeded our expectations and was overwhelming. New scholarship and new insights, wide ranging and from so many sources, expanded the understanding and knowledge of his artistic process and the impact on generations of artists who still today imbue Diebenkorn qualities in their every day," said Katharine James, Head of Digital and Public Engagement at the Richard Diebenkorn Foundation.
Contemporary visual art writers and thinkers break new ground in understanding of artist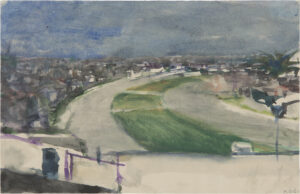 A highlight of #Diebenkorn100, the Foundation commissioned fresh scholarship by a diverse  trio of contemporary art critics exclusively for @DiebenkornFoundation and with graphic design by San Francisco Bay Area-based MacFadden and Thorpe. The three "essays in miniature" by Harley Wong, Amadour, and Charity Coleman were serialized on our popular Instagram channel, now at more than 57,000 followers. The critics were invited to write on any work, series, or period in the artist's life and with full access to our archives. Gabrielle Rivera, who participated in the Foundation's internship program and is earning her B.A. in Art Practice at the University of California, Berkeley, also produced a lively, insightful essay on the artist's not seen or studied studio materials.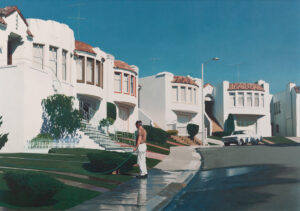 Wong, an editor at Artsy who has written for Artforum and Art in America, delved into Diebenkorn's influence on young artists. In a historically sweeping essay, she argues that "despite their diverging approaches to handling and manipulating paint, Robert Bechtle was moved by Diebenkorn's subject matter and although "Diebenkorn employed a more aerial perspective…both artists demonstrated an interest in stretched, angular shadows—as seen in Diebenkorn's Cityscape #1 (1963) and Bechtle's Texas and 20th Intersection (2004)—and curving compositions, as displayed in Diebenkorn's Divided Street (1961) and Bechtle's Frisco Nova (1979)." And she explored Diebenkorn's influence on the late Bernice Bing, now on view in a survey exhibition at the Asian Art Museum in San Francisco, surfacing a little known remark made by the artist of her time studying with the Diebenkorn at California College of Arts and Crafts: "I used techniques that Diebenkorn had employed in his earlier landscapes: washes over solid colors. There were also places in my paintings that had impasto brush strokes…in a fusion of light and a sort of atmospheric void."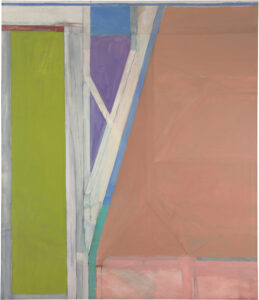 Amadour, a contemporary visual artist, musician, and art critic who has written for Frieze and X-TRA Contemporary Art Quarterly, contributed a deeply felt essay. "In a remarkable sense of coincidence, I discovered Diebenkorn had also spent time in places that significantly shaped my journey in art and life," Amadour writes, describing Diebenkorn's environs, experiences, bodies of work during his periods in Sausalito and Santa Monica, the latter of which Amadour remarks the artist "would host the local artist community at his home as a sort of salon." And of Diebenkorn's Ocean Park #18 (1968) and his Ocean Park #139 (1985), which anticipated the artist's conclusion to the epic cycle, they remark, "the perspective appears to float above the landscape as an aerial observation of ephemeral patterns on the sand." Coleman, a prose-poet, essayist, and art writer who has written for Artforum, BOMB, and elsewhere, unearthed the artist's 1998 CBS Sunday Morning News interview as a point of departure to consider how Diebenkorn talked, and sometimes struggled to talk, about his work in interviews, writing, and correspondence. "Rather than a pretense of mastery," she writes, "Diebenkorn evinced a willingness to stay receptive, give way."
And Rivera, who participated in the Foundation's internship program created for students from communities underrepresented in careers in museums and other visual arts organizations, contributed an essay on the artist's studio materials to the Foundation's quarterly digital From the Basement series on diebenkorn.org, a free public resource. We are delighted to announce that her essay was the impetus to process and digitize the artist's rarely seen studio materials in our Archives.
In spring of last year #Diebekorn100 kicked off with a new and lasting contribution to the study and understanding of the artist, "Richard Diebenkorn Capturing the World for Himself, A Painter Taking Pictures," by Daisy Murray Holman, former Head of Archives at the Foundation. The research, an expanded installment of From the Basement and developed special to diebenkorn.org, introduces rarely seen photographs taken by Diebenkorn between 1963 and 1987. Murray Holman asserts that the pictures appear to be direct studies for the artist's major paintings, such as the iconic Cityscape #1, and reveal an artist "always looking, framing" and integrating his surroundings in his painting and drawing vocabulary."
Special collaborations with beloved Bay Areas institutions

The centennial brought the Foundation and the work of the artist together with a number of institutions. And from the inception of #Diebenkorn100 in the San Francisco Bay Area, every major institution placed work on view in their galleries and participated online, including the Anderson Collection at Stanford University, California College of the Arts, Cantor Arts Center, Crocker Art Museum, Fine Arts Museums of San Francisco, Oakland Museum of California, San Francisco Art Institute, San Francisco Museum of Modern Art, San José Museum of Art, and University of California, Berkeley Art Museum and Pacific Film Archive.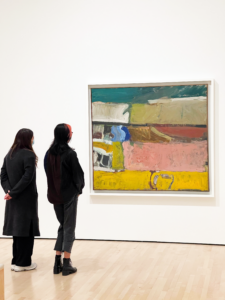 At the San Francisco Museum of Modern Art, where the iconic Cityscape #1 (1963) was on view and the oil on canvas Still Life with Orange Peel and Berkeley #47 (both 1955) were specially displayed during #Diebenkorn100, @SFMOMA and @DiebenkornFoundation came together for a #Diebenkorn100 Collab post—SFMOMA's first ever on Instagram—with a carousel of lesser known photographs relating to the significant Berkeley #47 featuring the artist and his canvases in his studio at 2571 Shattuck Avenue in Berkeley, located at the time above a Volkswagen dealership. And Janet Bishop, Thomas Weisel Family Chief Curator and Curator of Painting and Sculpture, wrote a touching, personal reflection on the museum's Instagram channel in response to the new, significant research by Murray Holman.
At the Oakland Museum of California, where Seated Nude-Arm on Knee (1962), Figure on a Porch (1959), and Woman with Chin in Hand (1958) were on view, along with special #Diebenkorn100 wall texts, Carin Adams, Curator of Art, shared a pair of tender, heartfelt, and funny reels on @OaklandMuseumCA. In the first, and seated below a reproduction of Untitled (1975) in her office, she confessed to owning the poster as a high school student in the 1980s: it "didn't occur to me until I had been in my role for quite a while…I saw this poster and was like… oh my god." Adams said that as a young person in Northern California, "Diebenkorn really defined the way that California light and land occupied my brain." And in a second reel, she twirled in front of the canvases, effusing, "I just think about atmosphere. The air, all of the kind of ephemeral aspects of this place, the Bay Area. They are so hard to capture in an artwork, but I think Diebenkorn is unique: "…the way he makes visible the invisible and makes tactile something as hard to capture as light."
Surprise coast to coast installations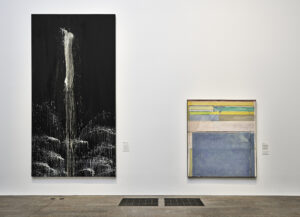 Elsewhere in the Bay Area, the Anderson Collection at Stanford University added to a group of oil paintings on view—Berkeley #26 (1954); Girl on the Beach (1957); and Ocean Park #60 (1973)—with a special loan of four Ocean Park drawings and a 1984 Leo Holub portrait of the artist in his Ocean Park studio by the Andersons' daughter, Mary Patricia ("Putter") Pence. The Foundation was delighted to add to the installation by loaning a work made the year Stanford granted the artist his bachelor's degree following the war, Untitled #32 (Sausalito) (1949). And Director Jason Linetzky invited students to produce specially created interpretive texts, the first of which were featured on  @DiebenkornFoundation and @Anderson.Collection.Stanford. At the de Young Museum, Fine Arts Museums of San Francisco, where the sweeping Seawall (1957) was accompanied by a 1979 oil and a 1953 Abstract Expressionist canvas, Emma Acker, Associate Curator of American Art, said of the work in a delightful, buoyant reel on @deYoungMuseum that Seawall is "one of my favorite artworks in the Museum's collection" and is "a really beautiful example of his ability to integrate the very raw gestural brushwork that we associate with Abstract Expressionism, with figurative representational subject matter" and "conveys this kind of elemental meeting of sea, sky, and earth on the Northern California coastline." The museums showcased works throughout the entire month of April on Instagram and with a fresh interpretation in a special #Diebenkorn100 wall text by Timothy Anglin Burgard, Distinguished Senior Curator and Curator-in-Charge of American Art, and a short essay and reel by Acker. And at San Francisco Art Institute, a special post @SFAIOfficial featuring an archival photograph of Walter Hopps and Richard Diebenkorn as they juried the painting entries for the 1971 Centennial SFAI Exhibition. Diebenkorn studied at SFAI in 1946 (then known as the California School of Fine Arts), taught at the School from 1947 through 1950 and returned to teach from 1957 through the mid-1960s. He received an honorary doctorate from SFAI in 1975.
In nearby Sacramento, the Crocker celebrated #Diebenkorn100 with a public unveiling of the artist's #2 (Sausalito) (1949), a new acquisition, with remarks by Associate Director and Chief Curator Scott A. Shields. The canvas was included in the traveling Richard Diebenkorn: Beginnings, 1942–1955 organized by the Foundation in conjunction with the Crocker, and was the first to solely examine the early work Diebenkorn made prior to his switch to figuration, focusing on the artist's stylistic and technical origins in oil, watercolor, gouache, ink, crayon, and collage. Shields also prepared a lively essay in micro @CrockerArt on the artist's Flowers (1957).
And in Southern California, the newly reopened Orange County Museum of Art chose to inaugurate its new 53,000 foot space with the prismatic Ocean Park #36 (1970). At the Norton Simon Museum in Pasadena, our very own Katharine James, Head of Digital and Public Engagement, came together with Emily Talbot, Chief Curator, in the Museum's sculpture garden on the occasion of Alternate Realities: Altoon, Diebenkorn, Lobdell, Woelffer for a special Instagram Live. Organized by Talbot, the exhibition focused on the four groundbreaking painters who were active in Los Angeles and the Bay Area in the 1950s and 1960s and who deployed figuration in an abstract vocabulary. Their lively and rich exchange ranged works on view in the spring and summer show, such as the artist's Berkeley #24 (1954), to the "buttery stroke" of Bottles (1960), to an unbound sketchbook of Abstract Expressionist compositions by Diebenkorn on display in vertical, airy vitrines that showed, to striking effect, both sides of the pages. And at the Museum of Contemporary Art, Los Angeles, a special birthday post on @MOCA highlighted the museum's holdings of the artist's work spanning paintings to works on paper.
In the Northeast and Southeast, participating institutions included the Buffalo AKG Art Museum, Morgan Library & Museum, Museum of Modern Art, New Orleans Museum of Art, North Carolina Museum of Art, Norton Museum of Art, Orlando Museum of Art, Phillips Collection, Virginia Museum of Fine Arts, Whitney Museum of American Art, and Yale University Art Gallery.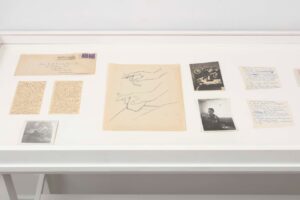 In New York City, visitors to the Museum of Modern Art discovered a special #Diebenkorn100 installation of the wall commanding Ocean Park #115 (1979) outside the museum's fourth floor collection galleries. At the Whitney Museum of American Art, a special post on the artist's birthday highlighted a ravishing Ocean Park 1980 canvas from the institution's permanent collection: "color serves as the artist's primary expressive tool, to convey both structure and atmosphere…Ocean Park #125 with its monumental scale and large central field, envelops the viewer." And attendees at the ADAA's The Art Show enjoyed a novel installation in Van Doren Waxter's stand featuring side by side comparisons of unique works and prints made by the artist, as he often worked out compositions that closely relate to one another in composition, palette, and imagery. The gallery kicked off the centennial with the historical retrospective Richard Diebenkorn: Works on Paper 1946-1992 at its 1907 townhouse. Organized with the Foundation, the exhibition included rarely seen material from every period of the artist's body of work and evinced his love of mark marking and use of paper as a medium and included a vitrine of archival material assembled by the Foundation, pictured. On the occasion of the show, the artist's daughter Gretchen Diebenkorn Grant and Murray Holman had an intimate conversation in the artist's former studio in Healdsburg, California speaking exclusively on Instagram @VanDorenWaxter and in collaboration with the Richard @DiebenkornFoundation. The conversation took place in front of a window depicted by the artist in a significantly scaled 1988 charcoal drawing included in the exhibition that shows with great tenderness the interior of the studio. Of the drawings in the show spanning every period in the artist's career, and the voluminous amounts of work on paper produced by the artist in his lifetime, Diebenkorn Grant commented "that through all the styles, there is the sense of this person, this soul." Rakia Faber, Collections Manager and Registrar at the Foundation, contributed an in-depth #WorkInFocus series on @DiebenkornFoundation, revealing information about three distinct works in the show. And in nearby New Haven, Connecticut at the Yale Art Gallery, where the dimensional and chromatic Ocean Park #24 (1969) was on view, a special #Diebenkorn100 post on @YaleArtGallery contained the artist's remark that "all paintings start out of a mood, out of a relationship with things or people, out of a complete visual impression."
In Washington, D.C., the figurative Interior with View of the Ocean (1957) has been on display at the Phillips Collection as part of the museum's own #Phillips100 centennial; Elsa Smithgall, the Chief Curator, commissioned a special wall label with the celebratory #Diebenkorn100 hashtag. And in New Orleans, at the New Orleans Museum of Art, another ravishing example of the artist's figurative years was on view, Woman on a Porch (1958).
In the Midwest, participating institutions include the Art Institute of Chicago, the Des Moines Art Center, the Milwaukee Art Museum, and the Nelson-Atkins Museum of Art with examples from the artist's epic Ocean Park cycle on view at the Des Moines Art Center and the Milwaukee Art Museum—the chalky Ocean Park #70 (1974) and the expansive Ocean Park #16 (1968), respectively—and at the Nelson-Atkins, the artist's Interior with a Book (1959).
If you are a member of the press and would like more information, please write to Brent Foster Jones, Public Relations for the Richard Diebenkorn Foundation, at press@diebenkorn.org.