Dr. Colin B. Bailey joins Richard Diebenkorn Foundation Board of Directors
September 27, 2017
Berkeley, CA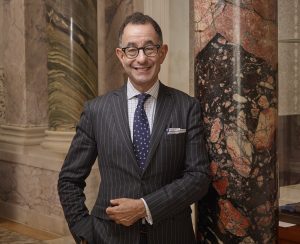 Steven A. Nash, Ph.D., the president of Richard Diebenkorn Foundation, announced today the election of Dr. Colin B. Bailey, director of the Morgan Library & Museum in New York, to the Foundation Board. Dr. Bailey was previously a member of the Foundation's Advisory Committee, and his recent election to the Board was unanimous.
Dr. Bailey is a highly regarded specialist in 18th and 19th century French art and an authority on the work of Pierre-Auguste Renoir. Previously, he served as director of Fine Arts Museums of San Francisco and held a variety of positions over more than a decade at the Frick Collection, including serving as deputy director and the Peter Jay Sharp Chief Curator.
"Colin is a distinguished curator, art historian, and skilled leader with a vast knowledge of museology and the cultural and philanthropic spheres," said Dr. Nash, himself a veteran of the museum world who co-organized the groundbreaking Richard Diebenkorn: The Berkeley Years, 1953-1966 (2013) at the de Young Museum. "Colin has an appreciation for the art of Richard Diebenkorn, developed during his leadership of the Fine Art Museums while Richard Diebenkorn: The Berkeley Years, 1953–1966 was on view. We look forward to his advice and guidance as we continue to increase public access to the artist's work and understanding of his legacy and times."
"I am honored to be elected to the board of the Foundation," Dr. Bailey said. "Richard Diebenkorn is one of the seminal artists of the 20th century whose work continues to be enormously influential. I look forward to working with my fellow board members on the many exciting initiatives they have planned, and participating in the development of new programs in support of the Foundation's important mission."
Dr. Bailey also served as deputy director and chief curator at the National Gallery of Canada, in Ottawa; senior curator at the Kimbell Art Museum in Ft. Worth, Texas; and held curatorial posts at the Philadelphia Museum of Art and the J. Paul Getty Museum in Los Angeles.
He has been responsible for many celebrated exhibitions. These include Renoir, Impressionism, and Full-Length Painting (2012); Watteau to Degas: French Drawings from the Frits Lugt Collection (2009); and Gabriel de Saint-Aubin (1724-1780) (2007), all mounted at the Frick Collection in New York; Renoir Landscapes, 1865-1883 (2007), The Age of Watteau, Chardin and Fragonard: Masterpieces of 18th-century French Genre Painting (2003), and Renoir's Portraits: Impressions of an Age (1997), at the National Gallery of Canada; and The Loves of the Gods: Mythological Painting from Watteau to David (1992) at the Philadelphia Museum of Art. His book, Patriotic Taste: Collecting Modern Art in Pre-Revolutionary Paris, was awarded the Mitchell Prize for the best art history book of 2002-2003. He also authored Fragonard's Progress of Love at The Frick Collection.
Dr. Bailey has taught graduate seminars at Bryn Mawr College, Columbia University, and the City University of New York Graduate Center. An Officier de L'Ordre des Arts et des Lettres since 2010, he has been recognized by the Foundation for Italian Art and Culture with its 2013 FIAC Excellency Award. Dr. Bailey is also a board member of the Burlington Magazine Foundation and the Scientific Committee of Arthéna, a French association for the support of art history and art publications. He earned his B.A. from Brasenose College at Oxford University with honors in modern history and his Doctor of Philosophy in art history from the University of Oxford.
Other Richard Diebenkorn Foundation Board of Directors members include: Sarah C. Bancroft, an art historian, curator, and executive director of the James Rosenquist Foundation; Kathan Brown, printmaker, writer, and founder and owner of Crown Point Press; Leah Levy, director and trustee of Jay DeFeo Foundation; Geoffrey Thomas, an attorney; David Watts, an estate planning attorney; and Mike Wilsey, a business executive, collector, and philanthropist.
About Richard Diebenkorn Foundation
Richard Diebenkorn Foundation expands knowledge and fosters appreciation of the artist and his role in central artistic developments of the 20th century. The Foundation increases public access to Diebenkorn's work and understanding of his legacy and times through support of exhibitions, loan of artworks, research, publications, archival services, and digital initiatives.
In 2016, the Foundation debuted Richard Diebenkorn: The Catalogue Raisonné (Yale University Press). This seminal 2,000 page reference publication contains more than 5,000 paintings, drawings, and sculptures illustrated in stunning new color photography and exhaustive documentation. The new website diebenkorn.org provides unprecedented access to the artist's work, archives, and information about exhibitions. The artist is featured this fall in Richard Diebenkorn: Beginnings, 1942–1955 at the Crocker Art Museum in Sacramento, CA from October 8, 2017 to January 7, 2018. The exhibition is organized by the Foundation in conjunction with the Crocker.
Talk with us on: Twitter, Instagram, or diebenkorn.org.