Richard Diebenkorn: The Catalogue Raisonné debuts
November 30, 2016
Berkeley, CA and New York, NY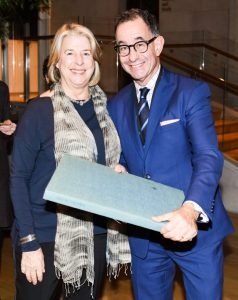 Collectors, curators and others recently gathered at the Renzo Piano designed Gilbert Hall at the Morgan Library & Museum in New York City for the debut of Richard Diebenkorn: The Catalogue Raisonné (Yale University Press), the definitive resource of the renowned artist's unique works, including sketches; drawings; paintings on paper, board, canvas; and sculptural objects. This seminal four-volume 2,000-page reference contains more than 5,000 works illustrated in stunning new photography and fully documented, including many works published for the first time. To mark the occasion, Steven Nash, a Richard Diebenkorn scholar and President of the Foundation, announced a gift to the Morgan of the Foundation's last remaining bound copy of the artist's 41 Etchings Drypoints (1965), made in collaboration with Kathan Brown at Crown Point Press. The book was presented by Gretchen Diebenkorn Grant to Colin B. Bailey, director of the Morgan.
For additional images of the evening, please see our presence in Instagram.
In his remarks, Mr. Bailey noted that the gift joins Untitled (1974), a gouache, acrylic and graphite on paper created during the artist's "Ocean Park" cycle and now in the museum's Thaw Collection. The drawing was on view for guests that evening alongside other works on paper graciously loaned by John Van Doren of Van Doren Waxter and organized as a pop-up exhibition by Isabelle Dervaux, Curator of Modern and Contemporary Drawings.
Ruth E. Fine, who recently retired from the National Gallery of Art, Washington, D.C., treated guests to a reading from her catalogue raisonné essay, "Noticing and Figuring Out: Working on Paper," in which she notes the significance of the bound versions of 41 Etchings Drypoints. During her distinguished career as a curator and scholar, Ms. Fine was essayist in the exhibition catalogue for The Art of Richard Diebenkorn (1997) at the Whitney Museum of American Art and spent time with the artist at Gemini G.E.L. Ms. Fine quoted a recollection made by Ms. Brown which is featured in the catalogue's richly illustrated chronology of the artist's life: "He did over a hundred prints, then selected and re-selected until he ended up with forty-one; then arranged and re-arranged until he had them in the sequence he wanted…it was the bound book he cared for, thick and heavy and full of the air that had surrounded his life at that time."
Jane Livingston, who served as co-editor alongside Andrea Liguori, Managing Director of the Richard Diebenkorn Foundation, also spoke, noting that over half of the works produced by the artist never left his possession, and many of these drawings and paintings on paper, never before reproduced or seen until the publication of the catalogue, are "fresh, exciting and important." Ms. Livingston, also an essayist in the new catalogue, began her professional relationship with Diebenkorn in the 1970s, when she purchased an Ocean Park painting on behalf of the Los Angeles County Museum of Art, where she served as Curator of 20th-century Art. In 1975, as Associate Director and Chief Curator of the Corcoran Gallery of Art in Washington, D.C., she hosted a traveling Diebenkorn retrospective and acquired an Ocean Park for the institution. She went on to organize the Diebenkorn retrospective at the Whitney in 1997 and authored the accompanying exhibition catalogue.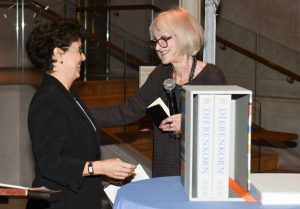 Ms. Liguori warmly acknowledged the staff at Yale University Press assigned to the catalogue, remarking, "We were so well equipped in their hands." She also credited senior staff Carl Schmitz; Daisy Murry Holman; Rakia Faber, and specialists Christina Boyd, Angie Doctor and Michael Waler, among others.
Richard M. Grant, Executive Director, acknowledged the "great, big footprints" of scholar Jack Flam, President and CEO, and Morgan Spangle, Executive Director, the Dedalus Foundation, who he confessed led him and Ms. Liguori to Yale University Press and Trifolio Press in Verona, Italy. He also gratefully acknowledged both Mr. Van Doren and John Berggruen of Berggruen Gallery for generously providing underwriting to the New York and San Francisco events, respectively.
Mr. Grant then invited his wife, Gretchen, daughter of the artist, to read the catalogue's dedication to Phyllis Diebenkorn (d. 2015), who initiated the catalogue and formed the Richard Diebenkorn Foundation in 2007 to research, document and preserve the art and legacy of her late husband. Ms. Grant advised and guided the catalogue in its many stages, and she regularly lectures on her father's life.
The catalogue was produced in association with the Fine Arts Museum of San Francisco. At a West Coast debut, held at San Francisco's de Young Museum in October, Director Max Hollein noted that the de Young's partner museum, the Legion of Honor, gave the then 26 year-old artist his first solo museum exhibition.
If you would like to purchase the catalogue, please go to Yale University Press.
Matisse/Diebenkorn
On October 23, 2016, The Baltimore Museum of Art opened the first major exhibition to explore the inspiration Diebenkorn found in the work of Henri Matisse (d. 1954). This landmark exhibition is co-organized with the San Francisco Museum of Modern Art; in 2017, the expanded SFMOMA presentation brings together 100 paintings and drawings by both artists; an adjacent coda gallery will feature work by contemporary artists that relate to Matisse and Diebenkorn, including Rachel Harrison, Elizabeth Peyton and others.
About the Richard Diebenkorn Foundation
The Richard Diebenkorn Foundation expands knowledge and fosters appreciation of Diebenkorn's art and illuminates crucial artistic developments of the 20th century. The Foundation increases public access to his work and understanding of his legacy and time through support of exhibitions, loan of art works, research, publications, archival services and digital initiatives, including the new diebenkorn.org, which provides unprecedented access to the artist's monumental output, as well as his archives of photographs, correspondence and other personal documents. Its collection of prints, drawings, paintings and sculptural objects is an indispensable resource in achieving its charitable purpose.