The Richard Diebenkorn Foundation debuts new and special video on Richard Diebenkorn: Beginnings, 1942–1955
March 7, 2019
Berkeley, CA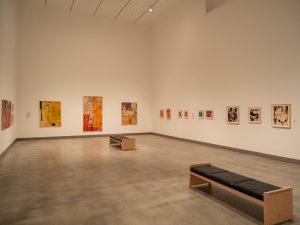 In a new video made exclusively for the new and expanding diebenkorn.org, Michael Zakian, director of the Frederick R. Weisman Museum of Art, Pepperdine University, in Malibu, CA, reflects on Richard Diebenkorn: Beginnings, 1942–1955 now on view through March 2019. The presentation is special and noteworthy, as it is the only Southern California venue for the traveling exhibition, and as Zakian has remarked of its geographic location in relationship to the body of work: "Many of the early images, influences, and references that later defined Diebenkorn's mature drawings and paintings began here in Southern California."
Zakian is an art historian, curator, and critic who has lectured and written extensively on modern and American art and has directed the Pepperdine University museum since 1995. He pursued graduate studies at Rutgers, The State University of New Jersey, which awarded him a M.A. and a Ph.D., where he focused on American Abstract Expressionism. Zakian is the author of monographs on artists such as Wayne Thiebaud, a close friend of Diebenkorn's who also deploys vibrant color, painterly texture, and aerial perspective in his art.
The video features rarely seen and beloved works on paper and paintings by Diebenkorn, as well as archival imagery, such as a 1949 photograph of a young Diebenkorn in Spadra, CA, taken the same year two of his Sausalito-era paintings were exhibited at the Los Angeles County Museum of Art. As Zakian is interviewed, viewers are treated to two extraordinary and vertically scaled oil on canvas "Albuquerque" productions in the background, made by the artist in 1952. For specialists and aficionados of the artist, Beginnings is the first time these paintings and others, drawn from the collection of the Richard Diebenkorn Foundation, have ever been on view.
Later, Zakian reflects on Urbana #2 (The Archer) from 1953, a noted and critically appreciated canvas of abundant blue and green and rugged brushwork, sharing with viewers that the work was both based on a prehistoric cave painting and signaled Diebenkorn's return to figuration. Zakian notes for viewers that the painting, which was produced the same year the artist would begin to make art full time and without alternate employment, is contextualized for visitors to Beginnings as it is shown alongside a suite of ink on paper works featuring abstracted figures in darkened rooms made in 1955, the year of his move to representation.
Zakian enthuses in the video that Beginnings "shows Diebenkorn's genesis" and that artists "really have to go through a struggle" of testing and experimenting. The exhibition reveals the forces that shaped Diebenkorn as a young artist, and Zakian adds that this includes the influence of artists he deeply admired, such as Willem de Kooning, the artist's "hero," as well as Clyfford Still, whose presence at what is now the San Francisco Art Institute resulted briefly in Diebenkorn experimenting with dark, angular forms and colors.
Organized by the Richard Diebenkorn Foundation in conjunction with the Crocker Art Museum in Sacramento, CA, the landmark exhibition is the first to solely examine the work Diebenkorn made nearly 25 years before his epic Ocean Park series. Focused exclusively on paintings and drawings made between 1942 and 1955, Beginnings features approximately 90 works, most of which have never before been publicly exhibited, in oil, watercolor, gouache, ink, crayon, and collage, tracing Diebenkorn's evolution from representational landscape, to semiabstract and Surrealist-inspired work, to his mature Abstract Expressionist paintings.
The video was produced at the Frederick R. Weisman Museum of Art within the museum's 2019 presentation of Beginnings.
The video is now available on diebenkorn.org, which provides unprecedented access to the artist's work, archives, information about exhibitions.
About Richard Diebenkorn Foundation
The Richard Diebenkorn Foundation expands knowledge and fosters appreciation of the artist and his role in central artistic developments of the 20th century. The Foundation increases public access to Diebenkorn's work and understanding of his legacy and times through support of exhibitions, loan of artworks, research, publications, archival services, and digital initiatives.
Richard Diebenkorn: Beginnings, 1942–1955 is on view this year at the Frederick R. Weisman Museum of Art at Pepperdine University, Malibu, CA from January 12 to March 31, 2019 and the Academy Art Museum, Easton, MD from April 26 to July 10, 2019. The 2018 venues included the Crocker Art Museum in Sacramento, CA, the David Owsley Museum of Art at Ball State University in Muncie, IN, and the Portland Art Museum in Portland, OR. Organized by the Richard Diebenkorn Foundation in conjunction with the Crocker's Associate Director and Chief Curator Scott A. Shields, this traveling exhibition is the first to solely examine the work Diebenkorn made prior to his turn to figuration.
Talk with us on: Twitter, Instagram, or diebenkorn.org.