New Criterion: Pieces of Ocean Park
Tracing six of Diebenkorn's works on paper to their origins in the south of France, 1978.
February 3, 2020
By Amy Beth Wright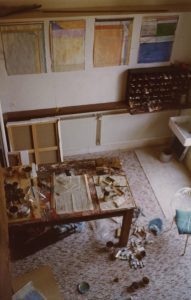 For many years, it was thought that Richard Diebenkorn did little to no work on his Ocean Park series outside of California. By that stage of his career, the argument went, considerable productivity outside of the habit-driven clockwork structure Diebenkorn had created in his Santa Monica studio was highly improbable. Aside from intimate landscape sketches, often views from the homes of close friends, few finished drawings from Diebenkorn's travels in this period have survived. And yet, newly located archival material—letters and photographs from 1978 and 1979—has turned the presumption that Diebenkorn only created consequential work from the Ocean Park period in California on its head.
Here is the story: In 1945, while stationed in Honolulu, Diebenkorn met fellow Marine Bill Davenport at a public library. The two formed a lifelong friendship, explains Daisy Murray Holman, the Head of Archives at the Richard Diebenkorn Foundation. Roselle, Bill's wife, was also an artist. More than thirty years later, in 1978, during a four-month visit to the Davenport home in Régusse, Provence, Diebenkorn worked in Roselle's studio. Gerald Nordland, a scholar and friend of Diebenkorn and the author of Rizzoli's 1993 Richard Diebenkorn, once suggested that the artist destroyed all of the works made from this particular time because the light, Diebenkorn reportedly felt, "was too French."
But Kay Davenport, the daughter-in-law of Bill and Roselle Davenport, recently shared a sizable file of archival materials with the Richard Diebenkorn Foundation, putting into motion a sequence of connections that led to, in Holman's words, "one of those moments where things click into focus."